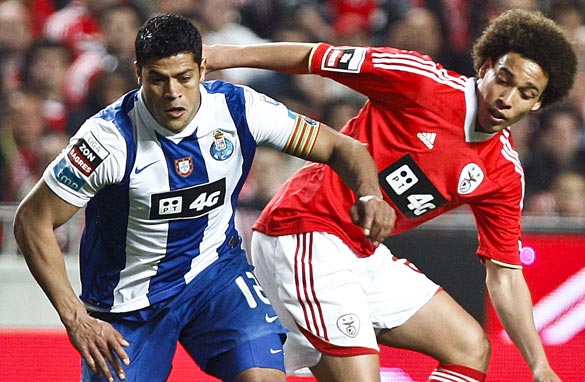 Both Hulk (left) and Witsel (right) are now Zenit teammates.
I don't know about you, but I was stunned by Zenit St. Petersburg's double deal to bring in Hulk and Axel Witsel for a cool $100 million. I had been expecting the Russian club to bring in at least one high-profile player, and had tweeted about it last month, but to be honest I was not expecting them to dish out so much cash.
As the European transfer window is finally closing for everyone, I take a look at the winners and losers of the market. And Zenit are among the teams who were hot.
Winners
Paris Saint-Germain – Not only did PSG spend the most money out of anyone in the world this summer, they spent wisely. A grand total of $184 million was invested to bring in the likes of Zlatan Ibrahimovic, Thiago Silva, Ezequiel Lavezzi and company. PSG coach Carlo Ancelotti can have no excuses for not winning Ligue 1 and making a long run in the European Champions League.
The Paris giants have all the weapons necessary to succeed in every competition this season. Are there any weaknesses left? I am not so sure. PSG seem to have at least two quality players in every position.
Zenit St. Petersburg – This team has a lot of talent. Witsel and Hulk join a squad that already boasts the likes of Bruno Alves, Domenico Criscito, Danny and Alexander Kerzhakov. Manager Luciano Spalletti has been able to build a very strong side and the two new additions will make Zenit contenders in Europe.
I would not fancy playing them in the Champions League, they will be very tough to beat. Hulk is one of the most explosive strikers in the world at the moment and I expect young Belgium midfielder Witsel to move somewhere like Manchester United or Real Madrid in the next couple of years.
Everton – Talk about getting value for money. Everton made a profit in the transfer market and still brought in players who have made the squad stronger. The sale of young England midfielder Jack Rodwell, who I consider to be overrated, was a good move especially considering they got $24 million for him.
Signing Belgium international striker Kevin Mirallas and bringing back proven creative midfielder Steven Pienaar means David Moyes will have a lot more talent to play with. Getting striker Steven Naismith for free from Rangers was also a coup.
Losers
AC Milan – How much more talent could Milan have lost this summer? Their two best players, Silva and Ibrahimovic left town, as did other established first-team members such as Antonio Cassano, Gennaro Gattuso, Clarence Seedorf, Alberto Aquilani and Alessandro Nesta.
I think the Rossoneri will really struggle to finish in the top three in the Serie A this season and I blame owner Silvio Berlusconi. He has used UEFA's Financial Fair Play as an excuse, but it's clear to me that he just doesn't want to invest more money in the club. He is cutting his losses as he plans to make a return to the world of politics.
Chelsea – The reigning European champions spent $100 million and in my opinion, they didn't get much better overall. They certainly lack balance in the squad in my eyes. Let's see, they brought in THREE playmakers (Eden Hazard, Oscar and Marko Marin) who along with Juan Mata will have to battle for two positions, while at the same time they have a shortage of depth in central midfield.
Who on the Chelsea squad can actually tackle? John Obi Mikel? No. Frank Lampard? No. Oriol Romeu? Not really. We saw against Atletico Madrid that they are a bit soft in the center of the park and I think they will struggle to match the most robust sides in the Premier League. They are slower and tamer than most of the teams in England's top flight after letting Michael Essien and Raul Meireles leave.
Also, who will fill in for striker Fernando Torres when he is injured or suspended? It was a mistake to let Romelu Lukaku go.
Liverpool – I honestly have no idea what the Reds are doing. I grew up supporting Liverpool and I am sad for all the fans at Anfield right now. So much money has been spent on average players and not one of their new recruits will make a real difference.
Last year, Charlie Adam and Jordan Henderson were both brought in for upwards of $35 million. Both of them fell short of expectations. This year, another average midfielder was brought in for too much money. Yes, I know a lot of people are raving about Joe Allen, but is he someone who will make a difference now, next year, or the season after that? He is good, but that's it. Not a game changer.
Oh and don't even get me started on the investments in Stewart Downing and Andy Carroll… What makes it worse is I don't think there is a strategy at Anfield. Fabio Borini is OK but why get another player with the same profile as Luis Suarez when there was a need for a pure center forward?
Other quick notes –
* Javi Martinez – $50 million? Really? I think Bayern Munich overpaid for a player who should have a good future but has no set position. Is he a central defender? Is he a defensive midfielder? I hope Bayern have figured out what they will do with the 24-year-old.
* Benfica – The Eagles of Lisbon lost their two best players in three days. After letting Javi Garcia leave for Manchester City, they sold Witsel to Zenit. It seems there is no long-term plan there except making money.
* Falcao – Expect Atletico Madrid's Colombia international to be at the center of a major bidding war next European summer. He is the best finisher on the planet and the big guns will be ready to spend some major cash on his skills, regardless of Financial Fair Play.