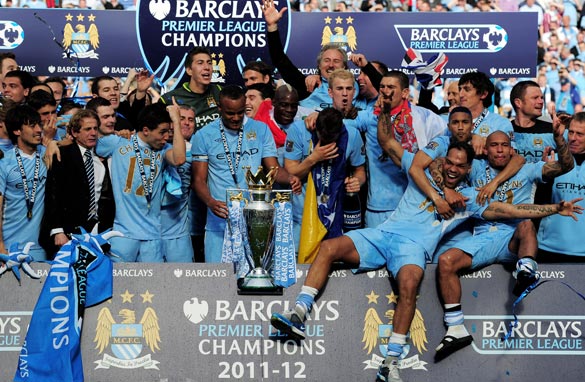 Manchester City's owners have led the way in offering bigger and bigger salaries to players. (Getty Images)
With the Olympics afterglow now starting to fade, football is stepping back into the breach to fill the sporting public's thirst for entertainment.
The big question has been, in Britain at least, whether the positive vibes created by the buzz of athletes giving their all for victory will survive now that the focus has returned to a group whose behaviors have generally been decidedly more questionable.
An Olympian who trips at the last hurdle is usually applauded for having a go, but spoilt millionaires whose off-field indiscretions are regularly reported in the tabloid press don't get much sympathy when they writhe around on the pitch trying to con match officials.
In fact, a recent report suggests that footballers may have more in common with another particularly reviled - and yet also highly envied - section of society: Bankers.
While high-flyers in the financial sector have long been getting year-on-year pay rises much greater than the average workers they employ, it has not gone unnoticed that men who kick leather about a pitch have also become estranged from the fans who pay to watch them.
Since the English Premier League started in 1992, its stars' pay packets have apparently ballooned by 1,508% - compared to a 186% rise for the average UK worker. Is it any coincidence that the Premier League is sponsored by a bank?
A study by think-tank High Pay Center revealed that the prices supporters pay to watch top-flight English matches have gone up by more than 1,000%.
While once you could have got into a Liverpool game for £4, the cheapest seats are now £45 ($70). At Arsenal, which has upgraded stadiums in that time, it's gone from £5 to £51 ($80).
Meanwhile, player wages now make up 70% of clubs' turnover as opposed to 48% in 1997. It's little wonder that teams are increasingly in debt.
"Bankers and company executives frequently make the comparison between their own pay and that of professional footballers," says High Pay Center chairman Nick Isles.
"There are similarities. For both the pay is extremely high, excessively complex and in many cases, secret. In football as in business, the money could be better invested in training and infrastructure, rather than unsustainable salary increases."
Needless to say, a lot of Olympic tickets weren't cheap. Or even available, it seemed. And much of London 2012 was subsidised by taxpayers. But the wholehearted support of the athletes taking part seemed a far cry from the abuse and chants – some of it admittedly more amusing than not – that regularly features in football grounds.
Whether that's a reflection of the difference between the people in attendance, or a reflection on the nature of the competitors, it's hard to say. But the only abuse I recall from London 2012 was aimed at Uruguay's Liverpool star Luis Suarez during the football tournament. The striker was booed every time he touched the ball at Wembley, no doubt related to his eight-game ban for racially abusing an opponent last season.
But obviously any such criticism doesn't apply across the football board. For every Winston Bogarde raking in £2 million ($3.15 million) a season for not playing at Chelsea – as the Dutchman managed for three whole years – there are many more honest players plying their trade every week.
Secret footballer reveals life inside EPL
And many do give something back. Craig Bellamy might be best known for threatening a former Liverpool teammate with a golf club, but the Team GB striker has set up a children's charity in Sierra Leone with a significant investment of his own money.
The players' salaries may be mind-boggling, especially to Manchester City's accounting team, but everyone has to make a living - and who would turn down such sums?
Like the bankers and company bosses who greedily pocket ever-growing remuneration packages, top footballers can hold out for bigger and bigger pay packets because the money is seemingly on tap.
While broadcasters such as Sky pay billions for coverage rights, and fans keep filling the stadiums, the trend is not likely to end even as the rest of the world tightens its belt.
Though the revolution against fat-cat bankers has apparently started, as customers take their accounts to smaller institutions with less history of money-laundering and fixing loan rates, it remains to be seen how the football public will vote.
The opening weekend of the Spanish and English seasons has left London 2012 behind a bit, seeming now to be a cloud of warm fuzzies rather than the all-encompassing excitement it provided at the time.
But the John Terry race case is yet unresolved as far as the English Football Association is concerned, despite the Chelsea captain being cleared in a court of law, and there is plenty of time for footballers to get back on the front pages with their extra-marital affairs, nightclub antics and lighting of fires in their bathrooms.
Already Arsenal's Brazil international Andre Santos has been arrested on suspicion of dangerous driving – having been caught speeding the day before the London club's EPL opener.
Hopefully there will be plenty of moments of magic on the pitch too, otherwise it's going to be a long season ahead - and many people may just decide to spend their hard-earned cash elsewhere.
Just as you can change banks if you want, the power is there to not renew that expensive satellite TV subscription or maybe go watch your local lower league team instead.
Maybe then clubs will start thinking twice about spending hundreds of thousands of dollars a week on just one player.
While it's unlikely that Europe's new financial fairplay rules will have too much effect, as big clubs will always find a way to get around them, mass action from the lifeblood of the game – the fans who fund it – could actually make a difference.