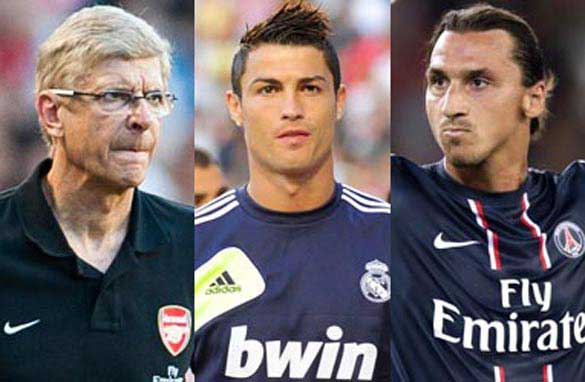 Arsene Wenger, left, Cristiano Ronaldo, center, and Zlatan Ibrahimovic will be key figures this season.
With the new European club football campaign upon us, it's time to look into the future and predict what the new season will bring.
Can last season's champions maintain their momentum? Who will be the key players, and what will be the main stories of the 2012-13 campaign?
Here are my picks for the continent's top five leagues; have your say in the comments box below.
Spanish La Liga
Champions: Real Madrid. They are the finished article and as they enter their third season under Jose Mourinho I believe they have become even stronger than last season. There has been a shift in the balance of power and I think Los Blancos will hold onto their top spot this year. Led by Cristiano Ronaldo, they have all the weapons necessary to shoot down Barcelona once again.
As far as the Catalans are concerned, I think they will fall short. I am not convinced Tito Vilanova can easily step into Pep Guardiola's shoes and have the same influence as his mentor did on the team. Most of Barca's players have won it all, and I don't think Vilanova is the right man to motivate them right now. Then again, when you have Leo Messi, anything is possible, right?
Top 4: Real Madrid, Barcelona, Atletico Madrid, Valencia.
Story to follow: Ronaldo vs. Messi. Last season, they scored a combined 96 goals in La Liga. Messi, who finished the campaign with 50, outscored 15 teams on his own. The question this year is what can these two extra-terrestrials do for an encore? I will be watching closely.
English Premier League
Champions: Manchester City. On paper they have by far the strongest squad in the country. Last season, even though Roberto Mancini mismanaged several situations, including the Mario Balotelli and Carlos Tevez disciplinary issues, they still managed to finish on top. Therefore, with the momentum and confidence gained from that title, they will be tough to stop.
As far as challengers are concerned, Manchester United will again lead the charge although they should have strengthened their midfield. I can't believe Alex Ferguson has spent so much on a striker in Robin van Persie when he needed a world-class playmaker.
Top 4: Manchester City, Manchester United, Chelsea, Liverpool.
Story to follow: Last chance for Arsene Wenger? I know for a fact that several players at Arsenal have lost faith in the manager's philosophy and his project. You can't lose your top players every year and believe that you still know what you're doing. Wenger has been a fantastic manager but seven years without a trophy is too long and the time has come for him to step aside.
Italian Serie A
Champions: Napoli. I know it's a controversial pick, but I have arguments to defend my case. First of all, this team has enjoyed more stability than any other in Italy, having kept most of their star players. Yes, they did sell Ezequiel Lavezzi but they have Goran Pandev, who is almost as good. They have added some depth to the squad and will benefit from the fact champions Juventus are in internal turmoil due to coach Antonio Conte's involvement in a match-fixing scandal.
Regarding both Milan giants, I think they will play a peripheral role this year. AC Milan are rebuilding and have lost two world-class players in Zlatan Ibrahimovic and Thiago Silva. Meanwhile Inter have changed managers more often than Massimo Moratti changes shirts and there is no continuity at the Nerazzuri.
Top 4: Napoli, Juventus, Inter, Roma.
Story to follow: Conte's ban. The Juventus manager was suspended for 10 months for failing to report attempts to fix matches while he was at Siena. He won't be able to sit on the Juve bench but he will be involved in training. How much impact will this have on the Bianconeri's season? The answer to that question will affect this season's title race.
German Bundesliga
Champions: Bayern Munich. After two years playing second fiddle to Borussia Dortmund, the Bavarians will celebrate a 23rd domestic title this season. Bayern can still rely mostly on the same group of players, including Franck Ribery, Arjen Robben and Mario Gomez - who make up one of the most explosive attacking trios on the planet. I also expect Croatia striker Marko Mandzukic to play a key role as well after his move from Wolfsburg.
I expect Dortmund to falter a little after enjoying so much success. In my mind they will focus mainly on the Champions League, where they haven't made an impact in a long time.
Top 4: Bayern Munich, Dortmund, Schalke, Wolfsburg.
Story to follow: Greuther Furth. Who? Exactly. This smalltown club is the latest in a series of low-profile sides to be promoted to the Bundesliga. It will be their first ever appearance in Germany's top flight and their claim to fame is that the town is home to Playmobil. Yes, I played with those toys when I was a kid, maybe you did too.
French Ligue 1
Champions: Paris Saint-Germain. Who else? Since Qatar Investment Authority bought the club two years ago, $300 million has been spent on strengthening the squad. Their team is so much stronger than any other in France that it will be a major shock if they fail to win their first title since 1994. Manager Carlo Ancelotti surely believes anything else but first place is a failure after being runners-up in 2011-12.
Even though they are overwhelming favourites, PSG should still not take anything for granted. As Montpellier proved last year, David can beat Goliath. This season Lille and Lyon could cause a surprise or two, so watch out for them.
Top 4: PSG, Lyon, Lille, Bordeaux.
Story to follow: Zlatan Ibrahimovic. He earns more money than anyone else in France and his ego is bigger than life, so how can he be controlled? Judging from previous incidents throughout his career, the  striker will definitely be at the center of attention for all the good or bad reasons. How Ancelotti deals with the big Swede will go a long way to deciding if PSG can live up to expectations and win the league.