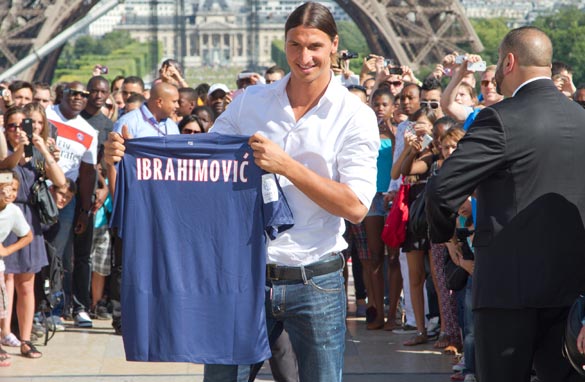 Swedish star Zlatan Ibrahimovic has symbolized PSG's lavish spending. (Getty Images)
Chelsea sign Gazprom as a new energy partner. Inter Milan sell a stake in the club to Chinese investors. Manchester City bank a record sponsorship deal with Etihad.
Yes, many of Europe's top clubs are already looking for ways around UEFA's Financial Fair Play (FFP) regulations.
What UEFA wants to do is easy to understand. European football's governing body is aiming to level the playing field and stop the rich becoming richer, and the poor becoming poorer.
That is why it has introduced FFP, which is supposed to regulate clubs' debts and control personal investments made by billionaire owners.
The rules state that if clubs incur losses of more than $60 million over a three-year period, they will be subjected to heavy penalties, including exclusion from the premier Champions League competition.
The first assessment will take place after the 2013-2014 season, and clubs are already being judged on income and expenditure.
The world's best-paid sports teams
It is no coincidence, then, that many are trying to find loopholes in the laws. Over the past couple of seasons, in addition to the cases mentioned above, we have seen Barcelona sign their first ever shirt sponsorship deal, Manchester United looking to raise hundreds of millions of dollars from a U.S. share offering, and even AC Milan chairman Silvio Berlusconi exploring options of Russian investment through his good friend Vladimir Putin.
What will be interesting to see is how creative teams will be in order to keep up their spending ways. I believe the top clubs will always find a way to live above the rules, or at least find a way to circumvent them.
Which brings us to Paris Saint-Germain. The question is - what are they thinking? If you take into account how much money the French club's Qatari owners are spending, there is no way they are complying with FFP at all. So let's look at their options.
First of all, PSG are already making the most of the fact their chairman Nasser Al-Khelaifi is also the owner of TV channel Al Jazeera. The Middle East-based network has paid a fortune for the rights to broadcast France's Ligue 1, and a big chunk of that money will go to the Parisiens.
Will football clubs play fair financially?
I am also expecting PSG to sign a naming rights deal for their stadium, possibly with a Qatari-based company, and even get a few new commercial partners to boost their yearly income.
It is the only way they will come close to balancing the books after spending over $150 million during the current transfer window.
So what is the moral of the story? It is my belief FFP may have some effect on European football in the future, and may help in some areas of the game, but there is no way that it will change its landscape.
At the end of the day, big clubs are like top brands and they will always find a way to make money. Whether it is by a sponsorship deal, a preseason tour or investment by new partners, the options are there to be exploited.