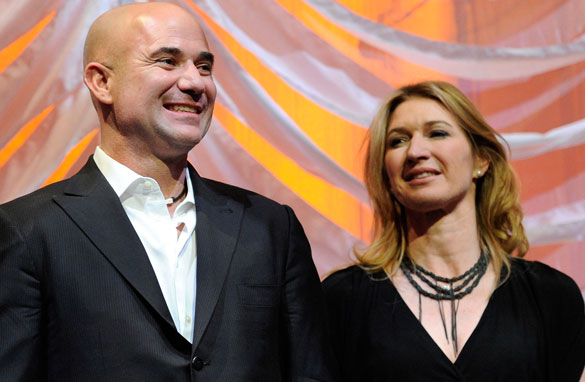 Tennis stars Andre Agassi and Steffi Graf married in 2001 and have two children. (Getty Images)
Roger Federer, Alex Ferguson, Mike Tyson, David Beckham and even Tiger Woods!
I've been fortunate and truly blessed to have interviewed some of sport's biggest names one-on-one, but for years there remained a glaring hole in my professional resume.
Or rather two glaring holes: Andre Agassi and Steffi Graf. I'd have taken some time with even just one of them, but the two of them together and the chance of a first ever trip to Las Vegas? Not something I was about to pass up!
While I never got to interview either of them at the peak of their playing powers, this was in a sense much better. I found both very welcoming, friendly, relaxed and very eager to talk.
What struck me was just how much winning Olympic gold means to both of them. Steffi shocked me when she said her gold back in 1988 was actually bigger in her mind than a grand slam title. Then I got to thinking ... the German has a total of 22 majors, after all, and only one Olympic gold! Or two, maybe, if you count the gold she won for her country when tennis was an exhibition event at Los Angeles '84.
I concluded that no-one who's won everything would want to end their career without a prestigious Olympic title.
I knew the celebrity couple rarely did this kind of thing, at least together, and having never before actually spoken to either of them I didn't quite know what to expect. I've been doing this kind of thing for too long to actually get nervous, but there's no question I was feeling a fair few butterflies! I'd done my homework though and felt well-prepared.
Both arrived early and went into make- up. Steffi emerged and, after introducing myself, we engaged in casual chat and took a trip down memory lane in recalling who she'd beaten en route to that 1988 gold. In an instant, I relaxed and when Andre arrived it was just like chatting with a pair of long-lost friends.
I only once ever recall feeling a few nerves in an interview situation before. That occasion was with Mike Tyson after a fight in Denmark. Though he'd won the fight, he hadn't performed to the best of his abilities and looking back I don't think he really wanted to do it. It's to his credit that he did, of course, but some of his answers were brief to say the least!
Andre and Steffi spoke passionately throughout. I could sense their pride in their achievements, and the setting for the shoot was even more special – especially for Andre. We were recording in the special workout facility of Gil Reyes –Agassi's fitness trainer for 17 years. They remain firm friends, and what caught my eye was the fact that every one of Andre's 8 grand slam trophies was on display for all to see.
Golden moments: Agassi and Graf relive Olympic glory
Our 30-minute segment flew by. I know I relaxed greatly during the shoot and I feel they did too. The couple's love for the game was all too apparent. Steffi's command of the English language is excellent but I sensed her husband's reassuring presence allowed her to wax lyrical about her terrific achievement in South Korea.
By the way, Andre's memory is incredible. He was able to recall every opponent en route to taking gold at Atlanta '96. Pretty much every scoreline too. Now that's impressive!
You can always tell when interviewees really want to be there in the first place. Andre and Steffi most definitely did. In fact, after the main half-hour slot, Andre hung around for general chit-chat off camera then agreed to record a separate 10-minute piece for us before shooting off to join his wife in picking up his other pride and joy – their children.
Just before we all went our separate ways, Andre gazed out of the window of the Reyes gym. His eyes were focused on the court that was just yards away. Had I brought my racket with me I may well have asked for a hit with one of the game's all-time greats.
I really do think he would have accepted my challenge too. Who knows, maybe we can leave that for next time we meet!