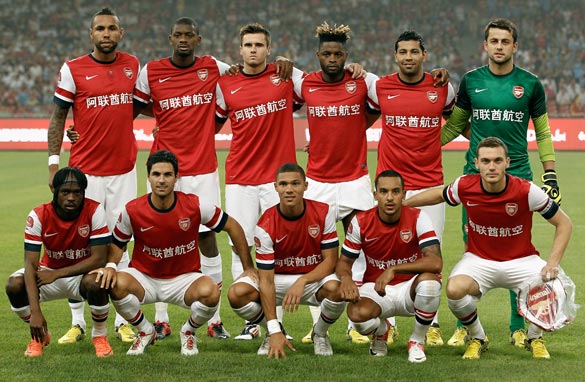 Arsenal's shirts were adorned with their names and sponsor in Mandarin during a recent tour of China. (Getty)
For years, Europe's top clubs have complained that seasons are too long; that there are too many matches. Some of them have elected to defend themselves from gruelling calendars by fielding reserve players for domestic cup games in order to keep their stars fit.
The club versus country row has also rumbled on for various seasons. Recently, the European Club Association (ECA) managed to reduce the number of international breaks from 12 to nine per two-year period.
The ECA hailed this reduction as a major breakthrough and said they were doing their best to protect the clubs and their players from exhaustion.
Now, as much as I agree that players are forced to play too many games every season, I believe clubs haven't done their best to protect their assets.
On the contrary, they have contributed to their players' fatigue by forcing them to go on long and tiring postseason tours of far away continents.
Right now, the likes of Real Madrid, Manchester City, AC Milan, Bayern Munich and Paris Saint-Germain, among many others, are playing friendly matches in the United States and Asia.
It begs the question - wouldn't players be better prepared for a new campaign if they stayed close to home, avoiding thousands of miles of travel and jet lag?
There is one reason why clubs decide to go on preseason tours - money. All of them are paid millions of dollars to travel to other continents to play friendlies.
It is difficult to find the exact amounts these European giants are paid to travel, but here are some numbers I found.
• Barcelona were paid $1.7 million to play a friendly against Hamburg this summer. The Spanish club actually ended up losing $490,000 because Leo Messi was injured and couldn't play. There was a clause in the contract that stipulated the Argentine star had to be on the field for Barca to get the whole amount.
• Real Madrid were paid $.37 million to play a friendly in Kuwait at the end of last season. After an exhausting campaign, the club forced the team to travel to the Middle East in exchange for a big pay day.
• Bayern Munich were reportedly paid over $6 million for a tour of China this summer. It was their third trip to Asia in the last 12 years.
Besides the appearance fees the clubs get, their increased popularity in the region also generates other revenue. For example, merchandise sales go up and so does the amount of money a lot of them can earn from selling TV rights.
In today's football market we all know that money talks. Take a look at what the likes of Chelsea, Manchester City and Paris Saint-Germain have done in the recent past.
If you have the cash, you will get the best players and consequently have the best chances of silverware. However, do clubs really need to travel these enormous distances every season to boost their bank accounts?
My belief is that they don't. Of course it's great people in the United States and Asia get to see some of the best footballers on the planet in action, but isn't that what the World Cup is for, to expose football to different markets?
In my opinion, clubs need to revise their offseason plans if they are truly interested in protecting their players from fatigue. They can't battle FIFA and the national federations on one side and then sell their principles for money on the other.
Plus - if they want to continue touring, can they not do so once every three or five years? There are enough top teams in Europe where there could be a rotation in travel plans.
One final thought. If it's about the cash, and it clearly is, should clubs consider taking certain competitions more seriously?
There is prize money to be won in domestic cups and the Europa League, for example. If clubs fielded their best players, they would stand a better chance of making some extra funds.