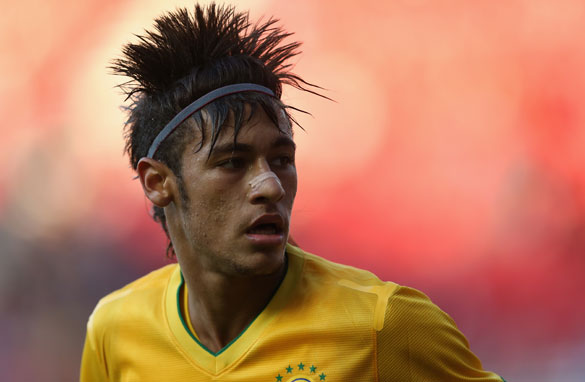 Star striker Neymar scored in Brazil's Olympic warmup win over London 2012 hosts Great Britain. (Getty Images)
It's gold or bust. There are two teams who enter the men's Olympic football tournament with just one goal – finishing at the top of the podium.
For different reasons, Brazil and Spain are taking these Games in London – which feature under-23 players plus three overage members per squad – as seriously as if it was a World Cup or continental championship, and I hope they get to meet in the final.
For the "Selecao" this competition is about much more than just pride or bragging rights, it's about history. Brazil may have won the World Cup a record five times and the Copa America on eight occasions, but they have never got their hands on Olympic gold. It is something that not only the country's fans and officials are hoping for, but the players themselves have been saying it would be a dream come true.
As far as I am concerned, the Brazilians have the strongest squad in the competition. Neymar is easily the best player who will kick a ball in the UK over the next three weeks and this could be the tournament where he truly arrives on the global stage. Then there is Thiago Silva, Alexandre Pato, Hulk, Ganso, Marcelo – all full internationals who play for top clubs.
On paper, the Samba Kings have a phenomenal team. Add that to their determination to make history, and they will be a tough team to beat.
Perhaps the only side who can do that is Spain. Right now they own just about every other title in the world of football, having won the 2010 World Cup, Euro 2012, the 2011 European Under-21 Championship and the last two European Under-19 Championships.
The winning culture has definitely been passed on from generation to generation and this Olympic team has plenty of talent. As a matter of fact they will have a trio of players (Jordi Alba, Javi Martinez and Juan Mata) who lifted the Euro 2012 trophy less than a month ago in Kiev.
Of course Spain know what it's like to win gold. They won the Olympic tournament on home soil in 1992, when the likes of Pep Guardiola and Luis Enrique were in the squad. The foundations laid by Pep as a manager at Barcelona have now allowed the current generation to reap the rewards, and the gold medal this summer would complete quite a winning cycle for "La Roja."
The greatest football team: Spain 2012 vs. Brazil 1970?
Outside of the leading favorites, we should not overlook Switzerland, whose under-17 national team put on a show on the way to winning the 2009 World Cup. Look out for players such as Fabien Frei, Pajtim Kassimi and Haris Seferovic to show off their skills.
So what about the host nation? I can't believe Team GB manager Stuart Pearce didn't pick David Beckham. He has been the perfect ambassador for the UK before and after London won the right to host the Olympics and on the pitch he would have contributed as much as Ryan Giggs or Craig Bellamy.
I thought the snub was unjustified, and by leaving the veteran midfielder out Pearce lost someone who would have been an inspirational figure in the dressing room. At a time when English players have an image of being spoiled brats who really don't care much for their club or country, Becks would have been a perfect contributor to alter that.
Should Beckham be playing at the Olympics?
Pearce recently complained that there was a lack of young quality players who were available for the Games, but if you don't pick ones who set an example then you are really not doing yourself any favors, are you?
So time for a prediction, and I say Brazil will win the gold medal. They have too much quality not to win the tournament and they will ride Neymar's skills all the way to a victorious performance at Wembley on August 11.