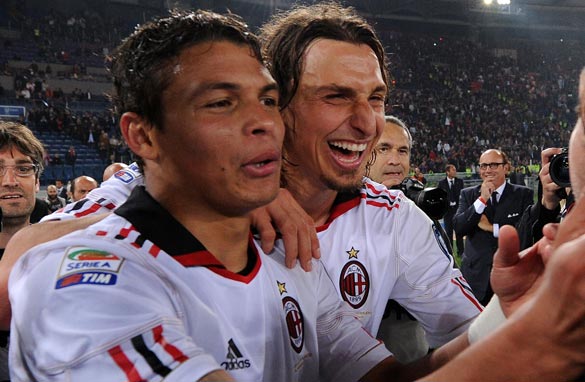 Thiago Silva (left) and Zlatan Ibrahimovic will both be playing for PSG when the 2012-13 season begins. (Getty Images)
Move over Manchester City, Real Madrid and Chelsea - there's a new club calling the shots in the global transfer market. Paris Saint-Germain have moved into phase two of their "world domination" plan, which has seen the French team splash the cash in a major way.
With the fine print on Zlatan Ibrahimovic's contract finally worked out, it is time to take a closer look at what the mega $80 million transfer of the Sweden striker and Brazil defender Thiago Silva from AC Milan means for PSG and football as a whole.
Earlier this year I spent a few days talking to the power brokers at PSG, whose new motto "dream bigger" is splashed all over their stadium, and saw for myself they were serious about becoming a major power in world football.
Putting the pride back into PSG: Qatari owners aim to be world's best
Chairman Nasser Al-Khelaifi told me he wanted PSG to be right up there competing for major honors with Barcelona, AC Milan and Manchester United.
One could have been tempted to say talk is cheap, but the owners have certainly put their money where their mouth is since the Qatari Investment Authority bought the two-time French champions in June 2011.
Phase one saw them lay the foundations for future success. High-profile players such as Javier Pastore, Jeremy Menez and Diego Lugano were brought in, and a few months later, the owners invested in a coach with a winning mentality and proven record - Carlo Ancelotti.
French football's $56M man: PSG poster boy Pastore
Perhaps the biggest deal for PSG was the signing of former Milan stalwart Ancelotti, who won the European Cup twice as a player and its successor the Champions League twice as a coach.
The objective in the first year of PSG's new project was clear: to win Ligue 1. The French championship isn't exactly the most challenging on the planet and after the initial investment made, Al-Khelaifi was expecting to take the title.
It didn't happen, with Montpellier holding on to first place, and in my mind that is why the owners have been so aggressive in the transfer market again in preseason - they want to win trophies and they want to win them now.
Which brings us to the transfers of Ibrahimovic and Silva, with a deal for the former confirmed by the club's general manager Leonardo on Tuesday.
There are two reasons why PSG are willing to invest so heavily in these players and their salaries.
The first is obviously because both of them are world-class stars and will make a big impact. The second is that it sends a clear message to the football world that Paris Saint-Germain mean business and that they have arrived on the global stage.
However, I would question the decision to bring the turbulent Zlatan to the "City of Light."
If his work ethic has been far from impressive at powerhouses like Internazionale, Barcelona and AC Milan, then how is it going to be any better at PSG?
I believe even if he makes $18 million a year, he won't really care that much about playing in Ligue 1. In the Champions League he may try his best but in the domestic championship? Not a chance.
Remember this is a player who once ran only 400 meters more than goalkeeper Victor Valdes during a Champions League game between Barcelona and Inter back in 2010. Is he really going to give his heart and soul in a league that has a lower average attendance than the United States' MLS? Uh… no.
As far as the impact this deal will have on the world of football, I don't think it can be ignored. When was the last time you saw two major international stars at the peak of their powers leave a Serie A giant and head to France?
I would say never. It shows that even the all-powerful AC Milan is not immune to the global recession (owner Silvio Berlusconi has stated the deal will save the club $185 million over two years) and it also shows that in modern football, money truly speaks louder than any feeling any player may have for any club or any league.
With the likes of Didier Drogba moving to China, Asamoah Gyan going to the UAE, Samuel Eto'o heading to Russia and Zlatan going to France, it's pretty clear. Players are making a dash for the cash.