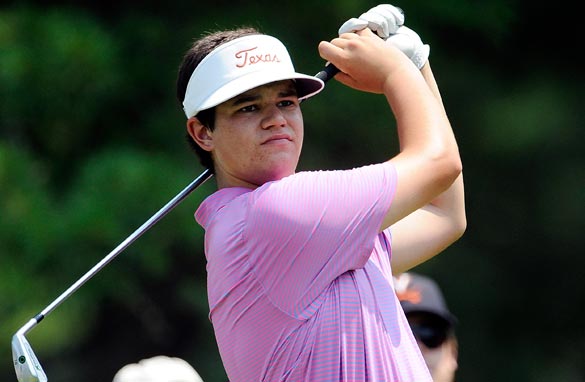 Beau Hossler is one of the new generation of young American golf stars. (Getty Images)
I'd say American golf has much to be proud of right now, ahead of this week's British Open.
Tiger Woods may have continued his own personal major drought at last month's U.S. Open, and Phil Mickelson looked as far away as ever from winning it, but the stage was cleared for another crop of young talent from the States to shine. And how!
Webb Simpson's triumph was significant not just because at the age of 26 it was his first major, but because it was the third straight grand slam title won by an American player - and in a Ryder Cup year that's one huge boost to team captain Davis Love III.
The spectacular success of Northern Ireland's Rory McIlroy at Congressional last year looks but a distant memory given his current form, while world No. 1 Luke Donald, No. 3 Lee Westwood and another highly-rated Brit, Justin Rose, continue to fall short on the biggest of golfing stages. But, in my view, that convincing victory in Maryland for young Rory only served to galvanize Americans playing in their own backyard.
Keegan Bradley responded by taking the PGA Championship in Atlanta, Bubba Watson promptly won his first green jacket at the Masters in April and Simpson followed suit at San Francisco's Olympic Club.
Factor in, too, the incredible young talent amid the nation's amateur ranks at the June tournament. Jordan Spieth, Beau Hossler and Patrick Cantlay, who has since turned pro and joined up with Woods' agent, all performed impressively at the season's second major. At one point in the second round, the 17-year-old Hossler actually led the tournament!
Hossler really caught the eye and was the pick of the bunch for me out of what's already another highly-talented batch of U.S. college stars. Even though he didn't end up as low amateur (that accolade went to 18-year-old Spieth) it was Beau's performance on and off the course that most impressed me.
He'll be disappointed, I know, to fall away during the final round after running out of steam down the stretch, but he has so much to be proud of.
In short, he was a breath of fresh air. I like the way his devoted mother followed every step of the way out there in the heat of battle. I like the way he played fearless, confident golf rubbing shoulders with the game's elite. But I especially like the manner in which he conducted himself at all those press conferences.
There was no convoluted breakdown of his round from young Beau. No lengthy reflections on where he needs to improve moving forward. No, what he wanted to focus on was the free laundry service in the players' locker room - a perk he was entitled to for making it through to the weekend rounds.
Or how about signing autographs Beau Hossler-style?!
With literally dozens clamoring for him to put to paper on their behalf or sign their recently-purchased hat, Hossler happily agreed to meet all requests. The one proviso? Gotta finish that ice cream bar! An image that will live long in the memory. Beau Hossler, onetime leader of the U.S. Open, signing his autographs with one hand clutching his post-round snack!
Don't think he can't play either. The general consensus from those in the know is he can. Out on the course the words "this kid's got game" were heard plenty of times.
Right now he remains in high school in Southern California. But not for much longer. He's committed to attend the University of Texas' coveted golf program. After that, it's all down to him. But one thing that is for sure - the golfing world will be watching!
While Simpson will not be playing at Royal Lytham this week due to the imminent birth of his second child, I'm expecting the American contingent to put in another strong showing.
There's a newfound confidence among the country's golfers and I feel that will prove a key factor once again. And don't forget the last two Opens played on the English course have both been won by players from the U.S. - Tom Lehman in 1996 and David Duval in 2001.
America's proud golfing heritage remains very much intact. In fact, you might say the future's never looked healthier.