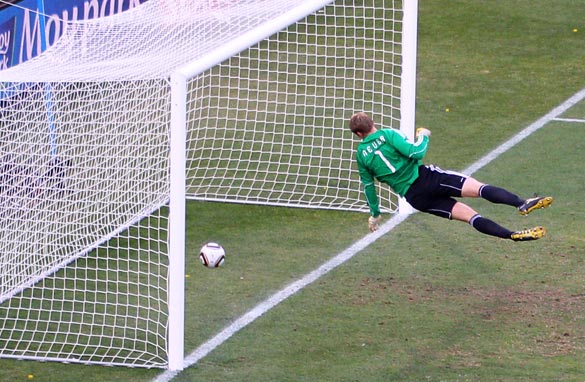 England have been involved in three notable goal-line technology controversies since 1966.
Good enough for American Football, basketball, baseball, tennis, rugby league, rugby union and cricket; good enough even for the Professional Bull Riders organization; and now finally, good enough for association football.
Following the countless pleadings of managers, players, the media and the fans after some horrendously embarrassing examples of goals that have not been given despite the ball crossing the line, FIFA is to allow the use of technology in the sport.
After years of opposition Sepp Blatter, through FIFA's law-making body the International Football Association Board has given the thumbs up, even if UEFA president Michel Platini's digit remains fiercely down as he continues to oppose this new development.
The change means football conversations will never be the same again as future generations of fans will be denied the opportunity to talk endlessly about whether the ball had actually crossed the line.
As a Briton it sometimes feels as if we talk about nothing else apart from Geoff Hurst's goal in 1966, Frank Lampard's non-goal in 2010 and John Terry's clearance in England's match with the Ukraine in Euro 2012, despite the ball crossing the line.
And no doubt Romania's Dorinel Munteanu's shot against Bulgaria which bounced over the line before being cleared in Euro '96 is still endlessly debated in cafes and restaurants up and down the Balkan country.
No doubt referees will also breathe a huge sigh of relief that they will no longer have to watch endless replays of their goal-line mistakes or be on the receiving end of the opprobrium of pundits and fans alike.
Rather sadly it also means it is unlikely a stadium will ever again carry the name of a match official, as happened when the Azerbaijan national stadium was named in honor of Tofik Bakhramov, the "Russian" linesman who told referee Gottfried Dienst that Hurst's shot had crossed the line when England beat Germany in the World Cup final at Wembley in 1966.
Bahramov is such an iconic figure in Azerbaijan that there is even a statue of him in the capital city of Baku.
In truth there have not been that many cases in international football of goals not being awarded correctly, but a British website Untold Arsenal, which has a team of qualified referees who have reviewed more than 40% of Premier League games from last season, argues that two or three goals each match day were wrongly given or wrongly disallowed, which suggests the FIFA u-turn is a welcome development.
At the moment FIFA's decision to embrace this new-fangled tech stuff is strictly limited to goal-line technology. But if it has taken its time, as it tends to like to do,  FIFA has crossed the Rubicon.
It is a decision which begs an intriguing question, will world soccer's governing body now have to fight a daily battle to avoid technology creeping further into the sport?
If technology can be used to adjudge whether the ball has crossed the line, why not for debatable offside decisions or incorrect red cards? And why shouldn't managers be allowed to challenge decisions as they do in American Football and tennis?
Pandora's Box has been well and truly opened.  But how long will it be before a campaign will be up and running demanding FIFA allow technology to play an even greater part in the running of the game?