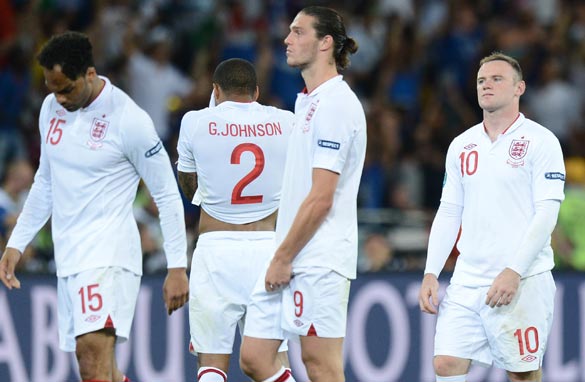 Despite a penalty shootout defeat to Italy, England are above the Azzuri in FIFA's world rankings.
Like "Knock knock" jokes, FIFA's soccer world rankings have long been a source of amusement but the latest list, putting England above Italy and Denmark above Brazil, is an embarrassment to the world's most popular sport.
Some aspects of the current top 10 make sense. Spain, the record-breaking European and world champions, have increased their lead in first place ahead of an entertaining Germany team.
After their disappointing displays at Euro 2012, the Netherlands have fallen to 8th while Italy – the surprise success story from the recent tournament in Poland and Ukraine – are back into the top 10 having risen to 6th place.
However, that still puts the Azzurri behind England, the team they beat in a penalty shoot-out at the quarterfinal stage. While a victory on penalties suggests a close game, most neutral observers agreed the English had been thoroughly outplayed.
FIFA's ranking is a complex process and the most crucial point is that it calculates positions based on results over a four-year period.
Essentially, it uses a formula that takes into account whether a team wins, loses or draws, added to how important the match is, the strength of the opposition and where they are from, to create a points score for every side each time they play.
Factoring in which confederation a team is from is an interesting part of the equation and a controversial one, according to Romanian computer programmer, Eduard Ranghiuc, who runs a football ranking website.
His understanding of FIFA's rankings calculations led to him spotting errors in their sums. World football's governing body now check his website before they release their figures.
Ranghiuc claims that teams from smaller confederations get fewer ranking points for the same result against the same opponents as, say, a side from Europe or South America. He prefers another ratings system, called Elo.
He told CNN: "As far as I can tell from comments I received on my blog and what I've read on various message boards, fans prefer Elo because it's more stable. You won't see teams shooting up 30 places after winning a match."
"Elo doesn't punish teams for playing too many friendlies. Mexico for instance could be much higher if they would play fewer friendlies. All points gained are divided by the number of games. And then there's the usual distrust towards FIFA. You can't blame the fans."
But even Elo doesn't differ that drastically and I would go even further to try to make FIFA's world rankings more intuitive. How about using a player rankings system – like the FIFA-backed Castrol Index – that gives each international squad an innate value?
Or issue ranking lists less frequently to avoid short-term ranking aberrations?
Golf's world rankings have also been heavily criticized, with many experts unhappy that recent number ones include players like Lee Westwood and Luke Donald – who are yet to win any of the sport's four major titles, the most frequent barometer of success.
At the same time, golf's list is flexible enough to have quickly put Tiger Woods back up into the top four, from below 50th in the world, once he started winning again – and that is a true reflection of how he is rated and how well he is playing.
Ultimately, football's world rankings need to "look" right at a glance. Two years before they host the World Cup, five-time winners Brazil are 11th in the world, below Denmark and Croatia, and I doubt even fans from those two European countries would agree their national sides are better than one containing Neymar, Pato, Kaka and the rest of the so-called Samba Boys.
The USA are down at 35th in the list despite their proud recent record in major competition.
It's those sort of eyebrow-raising results that leave FIFA's ranking system open to mockery.