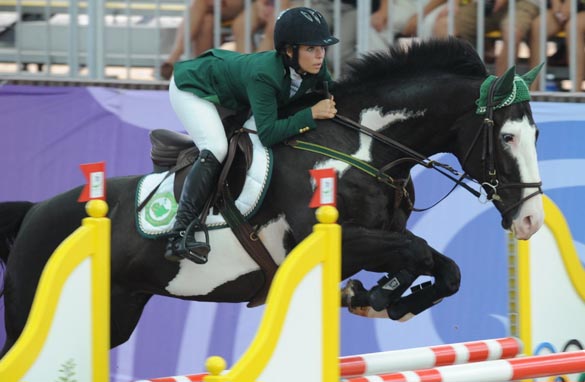 Dalma Rushdie Malhas will not be the first Saudi female Olympian as her horse is injured.
"First Saudi Woman to Compete in Olympics" is one of those headlines journalists live for.
In an ultra-conservative Islamic kingdom where women can't drive, can't travel without the permission of a male guardian or practice sports in public schools, women are no longer forbidden from participating in the world's highest profile sporting event.
Or so we thought.
Following months of debate and mounting international pressure by human rights groups calling on the International Olympic Committee to ban the kingdom from participation on grounds of discrimination, on June 24 Saudi Arabia's London embassy published a statement saying the country "is looking forward to its complete participation in the London 2012 Olympic Games through the Saudi Arabian Olympic Committee, which will oversee the participation of women athletes who can qualify for the Games."
The media held their collective breath in anticipation of a grandiose announcement by Saudi royals proclaiming a great move forward for women's rights in the kingdom.
After more than a week, the first official comment came on Monday in an interview in a local Arabic-language paper with the Saudi Sports Minister and Head of the Olympic Committee Prince Nawaf Al-Faisal outlining the conditions for female participation in any international athletics event, including the Olympics.
"The female athlete's male guardian must give his permission and accompany her to any competitions," Prince Nawaf told the paper. Women also have to "wear appropriate Islamic dress" (which likely includes a headscarf and loose-fitting garments) and "there must be no mixing with men during any game".
To ensure no one is tempted to stray, the woman and her male guardian must both sign a pledge vowing to abide by these conditions before she would be allowed to compete.
For months journalists have been hounding the media-shy 20-year-old female equestrian show jumper, Dalma Rushdie Malhas. U.S.-born and Paris based, she was the most likely candidate to be the first Saudi female to compete at the Olympics after winning a bronze in 2010 at the Youth Olympics.
"This is a dream come true," an excited Malhas told CNN following the initial announcement. "This opens many doors for women."
Malhas had already been invited to compete by the IOC but the new Saudi decision meant she would finally have national endorsement. She is not veiled and it is not clear whether she would agree to abide by these conditions and hard to even imagine what kind of loose garments an equestrian could feasibly compete in.
A day after the landmark statement, it was announced that Malhas, was not even in the running. The International Equestrian Federation (FEI) issued a press release saying Malhas had failed to qualify for the Games due to an injury her horse had suffered.
"We understand that the IOC has a number of other female athletes from Saudi Arabia in other sports who are currently under consideration," added the FEI statement.
Mere weeks before the games are set to begin, these other athletes have yet to appear. The strict new conditions are not an encouraging sign and there is no indication yet of what the IOC thinks of these conditions. Would "Islamic dress" be approved for competition? Is it not still discrimination to force women to be chaperoned and sign a document promising to stay segregated?
For those watching the story unfold, it is a hollow victory for Saudi women.
The quiet announcement lifting the ban on female participation paired with Malhas' disqualification means that, in theory, the kingdom could avoid the embarrassment of an IOC ban without actually having to field female athletes.
Human Rights Watch described the lifting of the ban as "an important step forward."
"But," adds Minky Worken, director of HRW's global initiatives "an eleventh hour change of course to avoid a ban does not alter the dismal and unequal conditions for women and girls in Saudi Arabia."
Although it made the headlines of the international media, the story was, disappointingly, almost non-existent in the Saudi press and this Olympic debate speaks to a much wider issue of women's participation in society as a whole.
The Saudi political system, led by a relatively reform-minded King Abdullah, is in constant struggle between ultra-orthodox Islamist clerics and those who would like to see the kingdom evolve socially and culturally. Currently the establishment actively discourages women from being athletic by banning sports in girls' public schools and issuing statements by clerics calling female athletics "immoral".
Find any article about Saudi female athletes and you'll see one of two photos: either Malhas competing in 2010 or a group of veiled women stretching on a basketball court.
Those women are the members of Jeddah United, a private basketball team and sports company, purportedly the first private female sports club in the kingdom. Starting with 12 players in 2003 they now boast 350 members, mostly children of both genders.
Their founder Lina Al Maeena, who plays center on the team, said she loved basketball as a student at a U.S. college and when she struggled with post-partum depression it was the athletics-induced release of endorphins that helped her recover.
Al Maeena says it's not about challenging norms (the women play in private female-only facilities) but about wellbeing.
"It's a social debate that we have to go through to promote [sports] and tell society, or the opposing segments in society, that we're not going against our religious or cultural beliefs," Al Maeena told CNN in February.
It is possible that as billions tune in for the July 27th Opening Ceremony we may see a woman marching proudly in the Saudi team as it files into the Olympic stadium. But this unlikely event may be as downplayed locally, like other women's issue in Saudi.
Some will say this will be a token gesture to appease the West. Others will say this is King Abdullah's subtle way of introducing quiet and organic reform without the pomp and circumstance that makes good television.
"The most important thing is not to win but to take part" is one of the Olympic mottos. How very true.