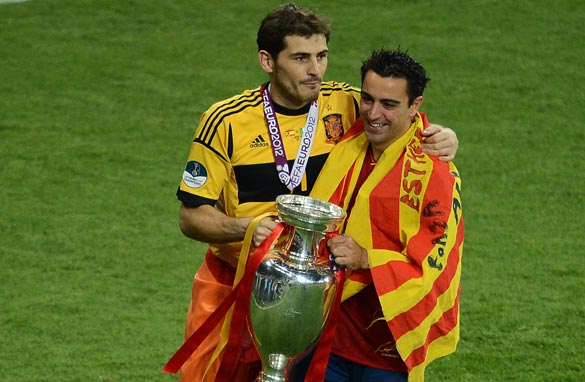 United in triumph: Captain Iker Casillas (left) and Xavi celebrate an historic success.
The spine still tingles. The sight of Vicente Del Bosque's team of torero's teasing and tormenting an Italian side, whose honest application should have made such subjugation subject to penalty on the grounds of cruelty, was as devastating a show of technical prowess and collective intuitiveness as you're ever likely to see during your time on planet earth.
The superlatives have long been exhausted and the cliches are too simplistic to capture the audacity of winning the European Championship, arguably the hardest competition in international football, by four clear goals against an Azzurri side bestowed with its own array of experienced superstars.
But thrash them they did, and with a swagger too.
The opening goal from David Silva was essentially an exercise from an exhibition match with the Harlem Globetrotters.
A routine created to prove that footballers too can be artists of a sporting aesthetic. The second from Jordi Alba, thrown in to demonstrate how total-football works: defenders can strike, midfielders roam according to instinct and hunt in packs when out of possession, center backs (even goalkeepers) can pass and hold the ball at feet, strikers ... well, in this case, sit mainly on the bench actually.
Though Fernando Torres, in a rare moment away from his bench-warming duties, scored a third by coolly slotting home yet another assist from the Gods delivered via their man on the ground, Xavi.
And then to underline the strong team ethos of the squad, El Niño passed up the chance to clinch the tournament's top scorer mantle by setting up late sub and club teammate Juan Mata for the fourth.
True Italy were down to 10 men by this stage but even before Cesare Prandelli's side were at a numerical disadvantage, Spain had shown enough to demonstrate the gulf in class between the two teams.
The victory was a crowning glory for a side who are undoubtedly one of the greatest ever assembled, with no other team having ever successfully defended the European title or won three major international trophies on the bounce.
But are they the greatest of all time?
Before jumping to any rash conclusions, like the many deluded commentators who labelled Spain "boring" in the preceding rounds of the tournament, a few statistics should be considered:
Del Bosque, who has now guided Spain to 52 wins in 60 games, is the first coach in history to have managed a side to World Cup, European Championship and European Champions League glory. In addition, La Roja's third European title equals Germany's record.
Unbeaten in their last 12 European Championship finals matches, Spain have not conceded a goal in their last five, both competition records. Furthermore, they have kept clean sheets in their last 10 knockout games at the European and World Cup finals. How many sides of the past have combined defence and attack so powerfully?
Incredibly, their last defeat in European Championship play was a 2-0 loss to Sweden in qualifying in 2006, a streak that has created a 29-game undefeated run.
And in a side known for their attacking ingenuity, goalkeeper Iker Casillas has kept a record 79 clean sheets in his 136 appearances.
What's more, of the starting eleven for the 2012 final, Xavi will be the oldest member at 34 come 2014. As the likes of Paul Scholes, Paolo Maldini and Ryan Giggs will attest, this is an age at which it is still possible to be winning silverware.
The nexus of the team - Casillas, Gerard Pique, Sergio Ramos, Cesc Fabregas, Andres Iniesta, Xabi Alonso - will surely have only formed a greater bond by the time Brazil plays host to the World Cup.
And this is without considering the array of emerging talent Spain has at it's disposal, including the likes of winger Jesus Navas and Alba.
Of the great sides from the ages it is always hard to compare like for like: were Hungary's "Magical Magyars" better than Johan Cruyff's "total" Holland side of the 1970s? Would the Brazil of Pele and Garrincha have beaten Diego Maradona's Argentina of 1986? Or was Zinedine Zidane's French side a finer winner of trophies than the Germany of Franz Beckenbauer and Gerd Mueller?
In truth, great teams can only be measured by the opposition they conquer, the silverware they claim and the memories they create. And on each of these criteria Spain surely match any of the legends listed above. The strong possibility remains that they're not finished yet either.
Favorites for the 2014 World Cup? You bet. And if they successfully defend their world title you might be celebrating the fact the undisputed greatest team of all time played during your lifetime.