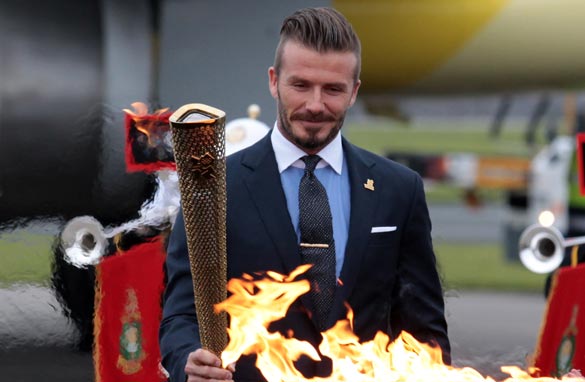 Fanning the flames: Beckham's omission has sparked debate across social media.
London's Olympic Games will be the poorer for David Beckham's absence and his omission from Britain's football squad highlights the lottery of selections based on subjectivity instead of results.
The fact that so many of the UK's esteemed football writers - normally highly critical appraisers of sporting talent – have voiced their dismay on social networking sites shows how many experts recognized that Beckham's place at the Olympics was about more than just his merit as a player.
Henry Winter of Britain's Daily Telegraph newspaper wrote "Becks deserved more respect." Matt Dickinson from The Times tweeted, "shocked by the Beckham news" while The Mirror's John Cross said he was "Stunned – Beckham deserved it on every level."
Even Italian football writer Tancredi Palmeri joined the debate, comparing the announcement with Roberto Baggio's controversial omission from Italy's 2002 World Cup squad.
The former England captain inspires loyalty from those who have watched him play. In the country which invented soccer, attitude is valued as highly as technique and Becks always looked like he was giving 100 percent.
On top of that, Beckham is a global sporting icon who has maximized his brand value off the football pitch as much as his talent on it.
The star midfielder was even used as part of the team which successfully secured London's right to host the Games for a third time in 2005.
Forbes magazine's most recent list of the world's highest paid players put Beckham top, above other more highly-rated stars like Real Madrid's Cristiano Ronaldo and Barcelona's Lionel Messi.
Although the 37-year old Englishman plays in America's Major League Soccer, which is considered at least one level below Europe's top leagues, his presence in the United States has helped boost his global celebrity.
And, like it or not, the Olympics is now as much about sporting superstars as those heart-warming stories of little-known athletes, from far flung corners of the planet, living off a pittance and defying the odds to reach the podium.
Beckham isn't the only headline act that Olympic spectators will miss during London 2012. Swimmer Ian Thorpe – a five times gold medallist – failed to make Australia's team, although he only had himself to blame.
"The Thorpedo" simply wasn't quick enough after coming out of retirement. And that was the problem for Haile Gebrselassie. The former world record holder for the 5000 meters, 10,000 meters and the marathon didn't make the cut at Ethiopia's qualification race.
However, unlike a swimming or running race, selecting a football team is subjective. And the coach of Team GB's football squad, Stuart Pearce, had the perfect excuse to indulge in the sentimentality of including a fading football legend admired in Britain and around the world.
London 2012 is a one-off. Because England, Wales, Scotland and Northern Ireland operate as separate football associations they are only entering a team this year because the tournament is on home soil. They won't for future Olympics.
Tickets for the football matches haven't been as popular as some of the other events. Beckham's presence could well have boosted sales and, while making the Games a financial success isn't normally a coach's concern, perhaps it should have played a part in Pearce's thinking.
Normally I would applaud a cold-hearted, logical approach to picking a team but Beckham should have been an exception to the rule.