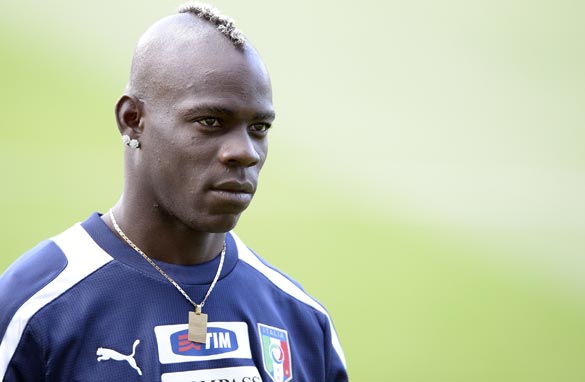 Mario Balotelli has played in all four of Italy's Euro 2012 matches.
You wouldn't blame Mario Balotelli for digging out his "Why Always Me?" T-shirt after he was compared to King Kong by Italian newspaper Gazzetta dello Sport.
It was an ill-judged cartoon which proves, yet again, how much more attitudes in the football world need to change to stop black footballers being singled out for the color of their skin.
If a respected publication like Gazetta, which has been running for more than a century, can sanction an illustration comparing someone from an ethnic minority with a famous gorilla – even in jest – then is it any wonder that anti-racism campaigners remain dismayed by football's attempts to eradicate the problem?
Putting aside this incident, maybe it's time for the sport's governing bodies to start docking teams points as punishment for racist transgressions.
That happened to Israeli club Beitar Jerusalem earlier this year. They had two points deducted after their fans chanted racist abuse at Nigeria-born Israel international Toto Tamuz. This was after a previous penalty, of forcing Beitar to play a match behind closed doors, had failed to stop the problem.
Gazetta has apologized for the Balotelli cartoon – which showed King Kong, with the striker's face, astride London landmark Big Ben – after receiving complaints from readers. Reports suggest the player himself was also unhappy with the drawing, which was published ahead of Italy's Euro 2012 quarterfinal against England.
The newspaper said: "We have to admit that it wasn't our cartoonist's best product. In these times we need a bit more moderation, caution and good taste … we have always fought against racism and condemned booing against Balotelli as unacceptable."
This statement contradicts any argument that might have been made suggesting the drawing could have been interpreted as a compliment. In reality it was a clumsy reference, especially coming during a tournament that has been marred by racist controversies.
UEFA has already issued more than $218,000 in fines for incidents connected to racism by fans at Euro 2012. Both Croatia and Russia have been multiple offenders.
And although anecdotal evidence from the tournament suggests fears of xenophobia - particularly in Ukraine - have been exaggerated, the Balotelli insult has demonstrated that the anti-racism message isn't getting through to everybody and it's time for football's authorities to get much, much tougher.