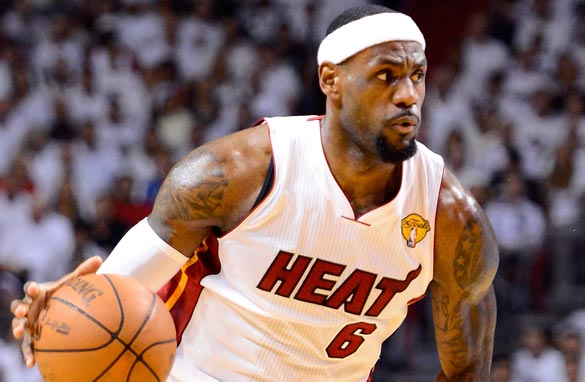 After nine long seasons, LeBron James finally picked up his first NBA title.
Back during his unveiling with Miami in July 2010, LeBron James promised Heat fans he would bring them "not two, not three… not seven" but maybe even more NBA championships.
While seven or eight may be a stretch, "King James" delivered at least one after the Heat ousted the Oklahoma City Thunder in five games in the NBA Finals. After all, you need to win one to get to eight, right?
It took James until his ninth season to claim his maiden title. But this victory could open the floodgates. It's not just that he won, it is how he won.
LeBron has always posted incredible numbers during his career. But statistics do not always tell the whole story. That's why, despite being named the NBA's Most Valuable Player for the third time this season, critics still took shots at his inability to perform when the chips were down.
Critics pointed to his final playoff series with the Cleveland Cavaliers back in 2010, which included a 32-point home loss at the hands of the Boston Celtics, where James was accused of melting under the pressure.
They also said LeBron shied away from taking the big shot during last season's Finals, which saw Miami blow a 2-1 series lead as the Dallas Mavericks claimed the title.
This time around, Miami took care of business, and it was with LeBron as the focal point. He was relentless from start to finish. In a team which also boasts superstar Dwyane Wade, James made clear that he would defer to no one. "King James" would earn his crown on his own.
James averaged more than 30 points per game during this season's playoff run, including a 30-point first half in Boston. He would finish with 45 points in that game, as the Heat avoided elimination and went on to win the series.
Coincidentally, that 30-point first half happened a day after NBA legend and basketball analyst Charles Barkley pleaded for LeBron to put the Heat on his back and carry them to the Promised Land.
"King James" did just that. And by putting the Heat on his back en route to the title, he got the monkey off of it. The critics are a thing of the past. What does the future hold? Miami fans hope not two, not three… not seven, but maybe more titles for "King James."