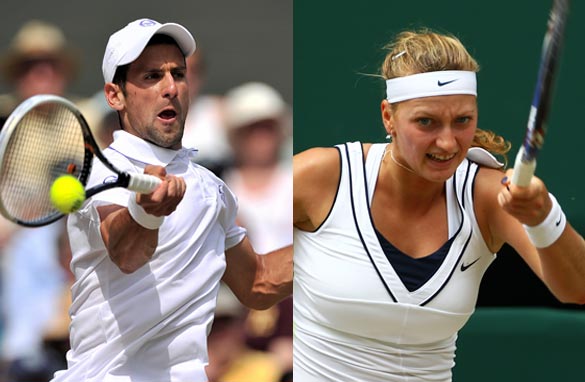 First-time Wimbledon winners Novak Djokovic and Petra Kvitova will bid to retain their titles in the next fortnight.
Novak Djokovic and Petra Kvitova defend their titles when the 126th edition of Wimbledon begins next week, but the odds are against both of them lifting the trophies for the second year in a row.
Such is the competitive nature of modern tennis, this feat was last achieved back in 1986 when Boris Becker and Martina Navratilova completed the double double.
Legend Navratilova, such an influence on Kvitova's career, also enjoyed successive title successes with Bjorn Borg in 1978 and 1979.
Djokovic and Kvitova were deservedly named 2011 ITF world champions in recognition of their Wimbledon triumphs and other outstanding results, but backing that up in 2012 has proved more difficult.
Kvitova was expected to assume the No. 1 ranking but has been stopped in her tracks by Maria Sharapova in the semifinals of the Australian and French Opens, while her form on the WTA Tour has been patchy.
Kvitova: Tennis without pressure would be boring
A first-round loss in the Eastbourne grass-court warmup tournament will hardly have helped the Czech's confidence.
Sharapova's French Open success has seen her back on top of the rankings and seedings for Wimbledon, and the Russian's chances of a first title at SW19 since her breakthrough as a 17-year-old in 2004 can never have been stronger.
She lost to Kvitova in last year's final, but has got stronger since then after ending her longterm shoulder problems.
Expect Australian Open champion and second seed Victoria Azarenka to be a factor, while Polish third seed Agnieszka Radwanska has previously won the Eastbourne title to show her credentials.
But picking the women's singles winner at a grand slam has become akin to buying a lottery ticket. The last six have been won by different players.
The smart and, strange to say, sentimental money may well be on Serena Williams, who has battled a life-threatening illness to become a force again despite occasional extraordinary lapses - such as her first-round exit at the French Open in late May.
For the 30-year it would be a fifth Wimbledon title and 14th grand slam crown, while elder sister Venus - already a five-time champion in London but now hampered by an autoimmune disease - is a dangerous unseeded floater in the draw.
She could meet Radwanska in the second round, while Serena has Kvitova in her sights in the last eight.
Serena and Venus have twice the incentive to focus. They are intent on pairing up to win a third Olympic gold medal in doubles at the 2012 London Games, with Wimbledon's grass courts again pressed into action to host the tournament.
Djokovic, meanwhile, was always going to struggle to repeat his 2012 heroics, but he has won a fifth grand slam title at the Australian Open and was only stopped by Rafael Nadal in the final in his bid to complete the "grand slam" at the French Open.
Nadal will offer a huge hurdle to the Serbian's hopes of a successful Wimbledon title defense, and - like Serena Williams - six-time winner Roger Federer will feel he has one more visit to the famous Champions' Ball.
Friday's draw left Federer set to play Djokovic in the semifinals, avoiding Nadal, which will be a relief to the Swiss maestro on recent form.
Unlike the women's singles, where it's possible to make the case for about a dozen players, it's difficult to see past these three, who have won 28 out of the last 29 grand slams between them.
Home hopes rest with fourth seed Andy Murray, who has reached the semifinals at Wimbledon three years in a row. Maybe, just maybe, coach Ivan Lendl's magic will rub off on him.
But remember, eight-time grand slam champion Lendl never won Wimbledon, losing in two finals, so it's hardly a good omen.
Murray's best chance of glory at Wimbledon may well come at the Olympics, where the formbook often goes out of the window in the singles competition.