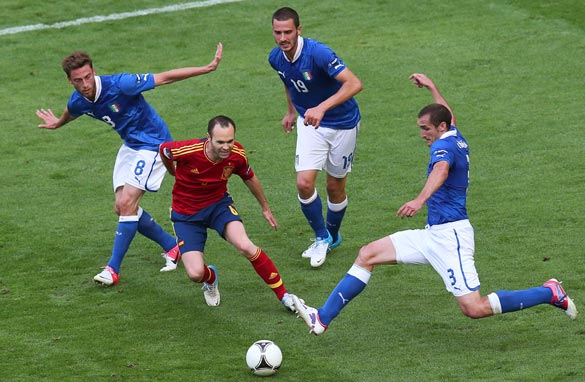 Spain's Andres Iniesta (center) is crowded out after another attack comes to an end. (Getty Images)
Even just a few months ago, it would have been sporting heresy. Now, it was just a throwaway comment between colleagues in the office. "I'm bored with Spain." I nodded in agreement - it was hard to argue.
Can it be true? Are we really getting tired of watching the world and European champions? An international side that echoes the quality of Barcelona; a team of footballing matadors with players who can humiliate their opponents, passing them to death and running them into the ground as they chase the ball in vain.
Surely the combined talents of Andres Iniesta, Xavi Hernandez, David Silva and the rest epitomize how the game should be played? Good football can invoke a strangely primitive, physical reaction and Spain's swashbuckling, "tiki taka" style is ideally suited to stimulate us. Their tactical aesthetic should be as joyous to behold as a famous work of art.
And yet there is something missing. A nagging feeling in the back of the mind that prevents you falling head over heels in love with this Spanish side.
We got a huge response when we posed this question on Twitter earlier. Sean said Spain are: "Technically superb but dull. Wouldn't watch if they didn't have Iniesta. They play to not lose."
Matt hit the nail on the head when he wrote, "… they've taken the best of Barcelona and sterilised it with pragmatism. Devoid of creative abandon."
The worry is that having conquered fluent, possession-based football, Spain's players have set out their stall to win at all costs. Their focus on results has stunted their flair and taken the fun factor out of their play.
David told us: "My nipper, wife and I all agree that the speed and flair of the Germans is better to watch than the tippy tab (sic)." And hopefully that comment will counter any accusations that these are all remarks from jealous England supporters.
Germany, much like Croatia in their group game against Spain, have shown a passion and athleticism that the defending European champions seem to lack. I'll admit it's slightly unfair on the Spanish, but they make the game look too easy. Fans want to see the effort and strain on the players' faces.
The same accusation used to be leveled at Formula One's most successful driver, Michael Schumacher, or legendary golfer Ben Hogan. At their best, they were technically brilliant, practically unbeatable - but you may as well have been watching a machine such was the dispassionate nature of their excellence.
In many ways, you are damned if you do and damned if you don't. Spain won't care if football fans are getting bored with their clinical aptitude as long as they carry on winning major trophies. There was a time when they were regarded as the big underachievers of the international game.
Not anymore. Now they are simply, predictably, efficiently good, but crashingly boring.