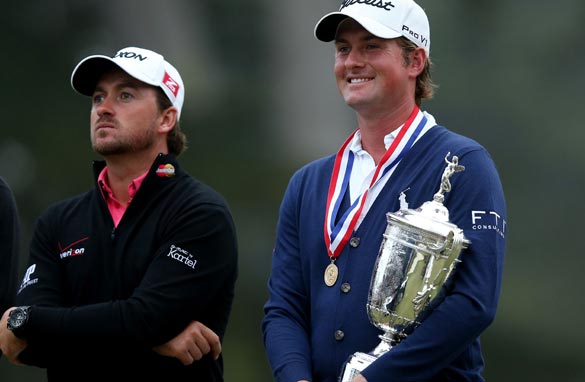 Webb Simpson, right, prevented Graeme McDowell, left, from repeating his 2010 U.S. Open triumph. (Getty Images)
And so it goes on. The era of first-time major winners, the age in which golf's biggest prizes are shared around, the Olympic Club's tendency to favor the underdog and even, in perhaps God's little joke, the trend of deeply religious men winning U.S. Opens in San Francisco.
Webb Simpson did what few others have managed before in a U.S. Open - and what no-one else managed this weekend at Olympic – when he shot a closing pair of 68s to win his first major. He thoroughly earned his elevation - and proved he has the game and temperament to win another.
Whether he does so given this unprecedentedly democratic run of changing champions - 15 different major winners in a row, the last nine of them first-timers - remains to be seen, but for now there's time to enjoy his achievement, and the profile and security it will bring.
Simpson talked afterwards of having been at peace all day. It may be a sensation withheld from some of those who couldn't quite take the trophy from him.
In fact several of the pre-tournament favorites didn't even make the weekend. We all know that Luke Donald is an outstanding player, a world No. 1 with a supreme short-game who manages to close out tournaments around the world. What we don't know is why that assurance hasn't yet made it through a major championship, nor whether it ever will. Of course there will be more chances, but the concern must be that there hasn't yet been a consistent pattern of challenging for the prize that would lift him to another level in the hierarchy.
At least Rory McIlroy has, in Jack Nicklaus' words, already got that particular monkey off his back with his remarkable victory last year at Congressional, and very few would bet against more majors ahead in his career. But defending champions, at least those with his prodigious talent, are expected to stick around for Sunday, and it will be interesting to see how he fares with the tough test of Lytham in next month's British Open given that the Northern Irishman wasn't entirely at ease with the windswept Royal St. George's last year.
In this month's Living Golf, Rory told us he thought his recent dip in form was "just golf," the game's way of reminding us that no-one can ever really master it. Less philosophically, he also told us he's been working on a couple of things in his swing - presumably that work will now continue with those he's trusted all his life to guide him to further success.
Quite how much more work Tiger Woods will be doing on his swing this week is anyone's guess. Two outstanding opening rounds put him firmly in place as favorite for the title, but a Saturday 75 was followed by a bleeding start to his final round and observers put aside their superlatives to suggest that the 14-time major champion was still playing swing rather than shots. His battling finish showed the fire and pride are still there, not that anyone ever really doubted that, but the speed with which he fell out of contention will have concerned those desperate to witness his 15th major, from fans to TV executives.
As his former coach Butch Harmon pointed out during the final round, the question "is Tiger back?" is pretty meaningless without defining which era Tiger you're talking about, but for most it's going to be signalled by a victory in a major championship.
Despite his weekend frailties, I think it's entirely conceivable that this could come at Lytham. In 2006 at nearby Royal Liverpool/Hoylake, Tiger showed the discipline (one shot with a driver in the entire four rounds) and touch to stay out of trouble. What's more, his accuracy at the brutally tough Olympic was also impressive - seventh overall in both fairways hit and greens in regulation, despite mediocre figures at the weekend. The question is really one of putting. No-one will know the answer until mid-July.
And finally to Simpson's closest challengers. Graeme McDowell, the 2010 champion, sounded pretty upbeat after his performance, and the way he came back from a scrappy start to give himself a putt for a playoff underlined once again the man's grit, a facet of which this year's European Ryder Cup captain Jose Maria Olazabal is no doubt well aware. Two-time winner Ernie Els went the other way - undermining a great round with a couple of (marginally) loose shots late on. He fought well against the odds, but at 42 he knows he's not going to be in challenging positions in majors too many times again.
Time, too, is shortening for world No. 3 Lee Westwood. His major performances are impressively consistent and his temperament under pressure is remarkable: a man who, straight after his round, can smile about his ball lodging in a tree and stymieing his chances, deserves all manner of credit. But the way those pine needles gripped hold of his ball, when 14 years ago they'd handed back Lee Janzen's in the same spot to allow him to win the 1998 U.S. Open, must make the Englishman wonder if his reward will come in this life.
Padraig Harrington putted like the old days - which, given the way the professional golf wheel has turned are, let us remember, only four years ago. The last man to win back-to-back majors will go to Lytham next month full of confidence, and he's reminded quite a few that he's a three-time major champion of the modern era.
Jim Furyk, too, showed why he's achieved so much in his career - but for him the disappointment and frustration will be much more intense. As McDowell fell away over Olympic's notorious opening stretch, this year's U.S. Open became Furyk's to win or lose. With one poor shot on 16 and a misplaced wedge the 2003 U.S. Open Champion let it slip. A bitter blow for the hugely-respected pre-round favorite, and he didn't try to hide it afterwards, but no-one will be fancying their chances against him at Medinah in the Ryder Cup.
And so Webb Simpson - the man who turned pro just four years ago, whose first win on the PGA Tour came last year - held off four major champions, three of whom had previously held aloft the U.S. Open trophy. Usually that would count as a shock. But here, at a course which has proved the graveyard of past champions, no-one was really the least surprised. It goes on.