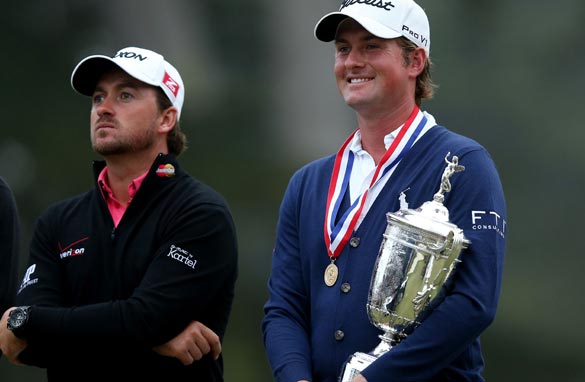 Webb Simpson, right, prevented Graeme McDowell, left, from repeating his 2010 U.S. Open triumph. (Getty Images)
And so it goes on. The era of first-time major winners, the age in which golf's biggest prizes are shared around, the Olympic Club's tendency to favor the underdog and even, in perhaps God's little joke, the trend of deeply religious men winning U.S. Opens in San Francisco.
Webb Simpson did what few others have managed before in a U.S. Open - and what no-one else managed this weekend at Olympic – when he shot a closing pair of 68s to win his first major. He thoroughly earned his elevation - and proved he has the game and temperament to win another.
Whether he does so given this unprecedentedly democratic run of changing champions - 15 different major winners in a row, the last nine of them first-timers - remains to be seen, but for now there's time to enjoy his achievement, and the profile and security it will bring. FULL POST