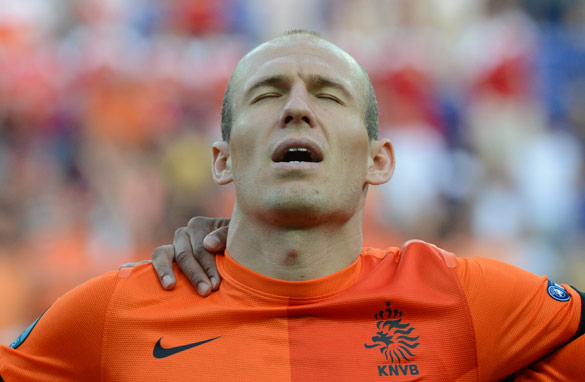 Netherlands star Arjen Robben proudly sings the Dutch national anthem. (Getty Images)
"Sing" was the name of Gary Barlow and Andrew Lloyd Webber's song to commemorate the Queen's Diamond Jubilee. Shame it wasn't given the subtitle "And Prove You Know the Words." Then it could have been used as the official anthem for football's European Championships and the London Olympics as well.
Because it seems people have a bit of a bee in their bonnets. Even the non-royal ones.
UK athletics head coach Charles van Commenee has said he's making sure all Team GB athletes are practicing the words of the British national anthem ahead of the Olympics, to avoid a repeat of the embarrassment with U.S.-born team captain Tiffany Porter at the World Indoor Championships in March. Porter has been dubbed a "Plastic Brit"  – and was challenged to prove her British credentials by reciting the opening lines of "God Save the Queen."
Poland's France-born footballers Damien Perquis and Ludovic Obraniak were asked to sing part of the Polish anthem ahead of Euro 2012, amid talk of a split in the squad – which also features players with German connections recently brought in by coach Franciszek Smuda.
But does being able to sing the national anthem prove your right to represent a country? Does every Poland-born Polish person or British-born member of Team GB know the words of their anthems? You just have to cast your mind back to the cringeworthy performance of popstar Christina Aguilera singing "The Star-Spangled Banner" at the 2011 Super Bowl to see that where you're born doesn't necessarily mean that's always the case.
Designer Giorgio Armani has found the perfect solution to the problem – he's included the words of the Italian anthem in the team's Olympic kit. Not just a handy cut-out-and-keep guide in the pocket either. He's gone as far as printing the words to "Il Canto degli Italiani" on the inside of team jackets and sweatshirts.
Armani's reasoning? He says he's done it because "sport is the most patriotic thing that there is and it inspires national pride."
I understand the need for the feeling of national pride. An awareness that when you pull on that strip you're not just running or playing for yourself, but representing a flag and a nation. But isn't it how you perform when that whistle or gun goes that should matter most – more than whether or not you sing the anthem?
There have been calls for Roy Hodgson to drop England stars Wayne Rooney, Steven Gerrard et al if they're not singing along in Poland and Ukraine. But – as we see all too often – these guys are chosen for their footballing ability, not their brains or ability to belt it out. And (unlikely I know) if they help to bring England's first major trophy since 1966 – never mind singing – they'll be screaming from the rooftops.
Serbia's Football Association suspended midfielder Adem Ljajic for failing to sing "Boze pravde" ahead of a friendly against Spain. He said it was for personal reasons – and a stance that won't change in the forseeable future. Coach Sinisa Mihajlovic sent him home, and told him he won't be changing back into his national strip until his attitude changes. You could say it's just unlucky for Ljajic he's not eligible to play for Spain or San Marino. It's not as if you can be punished for failing to sing along to an anthem without any words.
And as we've seen recently, even if the athletes have done their homework it turns out that event organizers don't always do theirs. South Africa's women's hockey team were forced to stand through the awkward embarrassment of the anthem from the apartheid era, "Die Stem," at the London Cup instead of "Nikosi Sikelel' iAfrika." And if Maria Dmitrienko's name isn't the most memorable, it's difficult to forget her face after organizers of a shooting championships in Kuwait celebrated her gold medal with the spoof Kazakhstan anthem from the film "Borat" instead of the real one.
So what about the route that UEFA has gone down with the European Champions League? Scrapping national anthems altogether and having an event theme tune rather than anthems from individual countries? It might be something the Greeks are interested in, rather than learning all 158 – yes, 158 – verses of "Imnos pros tin Eleftherian."