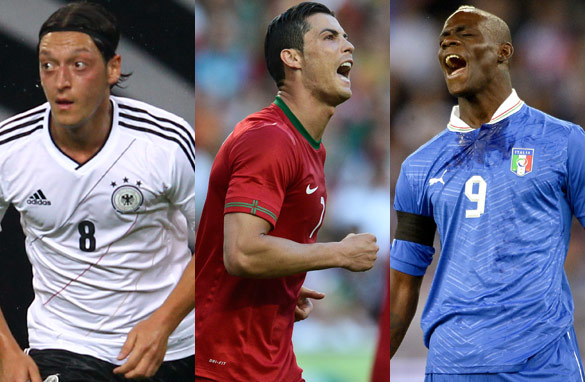 Germany's Mesut Ozil, Cristiano Ronaldo of Portugal and Mario Balotelli of Italy will all be at Euro 2012. (Getty Images)
It's official - I have Euro fever. After three days in Warsaw I am already starting to eat, breathe and sleep football.
With the 2012 UEFA European Championship kicking off on Friday, it's time to look into my crystal ball and predict what will and won't happen over the next month in Poland and Ukraine.
WHAT WILL HAPPEN:
Germany flies home with the cup. After losing to Spain in the last two major tournaments, it is time for Die Mannshaft to shine. They seem to have the perfect mix of experience and youth, along with a manager in Joachim Low who knows what he's doing. Mesut Ozil is the best creative midfielder in Europe at the moment and he will probably be voted the best player of the tournament.
England underachieves. I have lived in the UK long enough to know that English players are incredibly overrated. Just because the Premier League is the most popular league in the world, the English media and fans believe their players are better than they are. Even now, with a new manager in Roy Hodgson and a series of injuries that has depleted their squad through the loss of Frank Lampard, Gareth Barry and Gary Cahill, many people still expect the Three Lions to make the semi-finals. I feel they will probably finish behind France and Ukraine in Group D.
Mario Balotelli gets his marching orders. The young Italian forward is incredibly talented, but he is constantly let down by his fiery temperament and that will happen again at this tournament. Considering the tension in the Italy squad at the moment in light of the latest match-fixing scandal, I honestly see him losing it in at least one match in the tournament.
Cristiano Ronaldo lives up to expectations. I expect Portugal to edge out Holland for second place in Group B and CR7 will be a big reason for that. I am Portuguese and I know how much pressure there is on his shoulders, but after a phenomenal season at Real Madrid, the winger will silence his critics once and for all. I say he is a good outside bet to finish the tournament as top scorer.
WHAT WON'T HAPPEN:
A hat-trick of titles for Spain. La Roja's magical run will come to an end this summer. They have played the best football on the planet over the last six years but I just don't see them having the motivation required to make it three major titles in a row. The absences of David Villa and Carles Puyol will be felt and there are too many players who aren't in good form. The likes of Pique, Xavi and Fernando Torres all struggled for consistency last season.
Mario Gomez finishing the tournament as top scorer. He may have netted 41 goals for Bayern Munich this season, but don't expect him to light up Euro 2012. The main reason for that is that he won't have Arjen Robben or Franck Ribery alongside him this summer. In my opinion, Gomez is only as good as the service he gets and even though he will obviously find the back of the net this summer, the center forward will not top the scoring charts.
Racist abuse of players. There is racism in Eastern Europe, as there is, unfortunately, racism in practically every region of the world. However, I see Euro 2012 as the perfect opportunity for Poland and Ukraine to demonstrate the importance of cultural and social acceptance. I think this tournament will open the minds of people who have not seen or interacted with many foreigners in the past. I will be shocked if there are any monkey chants during games at Euro 2012. I don't expect it to happen.
France self destructs. The last World Cup saw France's national team squad rebel against manager Raymond Domenech. Team spirit was at an all-time low and the players decided, wrongly in my opinion, to take a stand. That is in the past however, and current coach Laurent Blanc has been able to right the ship. I see France as one of the dark horses for the tournament. With a potent forward trio featuring Franck Ribery, Jeremy Menez and Karim Benzema, Les Bleus could surprise a lot of people this summer and challenge for the title.