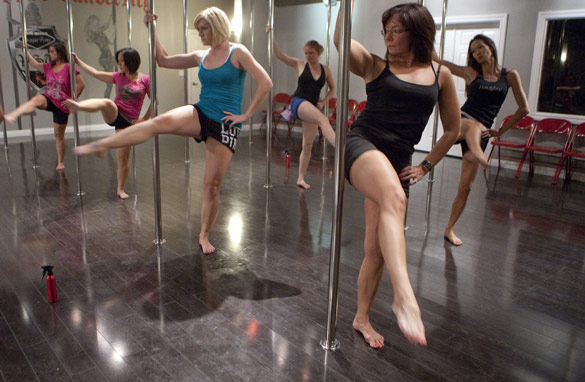 Does pole dancing really differ from existing Olympic disciplines? (Getty Images)
Yes, I'll admit it. I have been known to pole dance. And yes, there are pictures to prove it. No, you're not seeing them. And I can assure you I didn't take my clothes off.
But I will say that an afternoon meant to be a bit of fun was one of the most painful and bruise inducing of my life.
I am allegedly quite fit (in the running, exercise sense, before you accuse me of getting ahead of myself). But before you could say "Peter Stringfellow" - the longtime UK strip-club entrepreneur - that pole had me waving my white flag of surrender, even before I'd managed to climb to half mast.
So yes, I can see where professional pole dancer Becca Butcher is coming from when she says: "It can be extremely challenging - it's Olympic-level difficulty." But does Olympic-level difficulty mean deserving of a place at the Olympic Games?
Bernie Ecclestone told me last week in Monaco that Formula One won't be included in the Olympics in the near future because of a ban on mechanical sports. But he did go on to admit "but they keep adding things which I don't believe are Olympic sports - so maybe - it would be nice to see it happen." (More on the newest recruits of Rugby Sevens and golf in a moment.)
I love F1 - but for me, it should never be part of the Games. Leaving mechanics to one side, it's big enough on its own. And certainly doesn't need the profile.
I, like many others, believe the Olympics should be the pinnacle of the sporting calendar for the athletes - and events - involved. That Olympic gold medal should be worth more than any other honor in their field, or pool, or boat.
So yes, I'd get rid of football and tennis, and not even begin seeding the greens or commissioning the official Olympic mouthguards ahead of Brazil. Golf and Rugby Sevens are both heading to the Games in Rio in 2016 - having been awarded official Olympic status three years ago.
But it remains to be seen whether the biggest names from those sports will find the time to make it there too.
Thankfully for lovers of the aforementioned sports, and of course their governing bodies, it's not me making the rules. It's the International Olympic Committee. So how do they decide? According to the "Official website of the Olympic Movement:"
"To make it onto the Olympic program, a sport first has to be recognized: it must be administered by an International Federation which ensures that the sport's activities follow the Olympic Charter. If it is widely practiced around the world and meets a number of criteria established by the IOC session, a recognized sport may be added to the Olympic program on the recommendation of the IOC's Olympic Program Commission."
Squash and karate were just two of the sports left disappointed after the last round of judging in 2009 - and didn't even make it to a full vote. Both are administered by an international federation, both are widely practiced around the world - but neither made the grade.
There's suggestions that golf and rugby were frankly just seen as more marketable, as having more commercial value. And when you look at the additions of BMX and open water swimming to the last Olympics in Beijing in 2008 - billed as an attempt to attract a younger audience - maybe sexy sports are the way forward.
And talking of sexy...