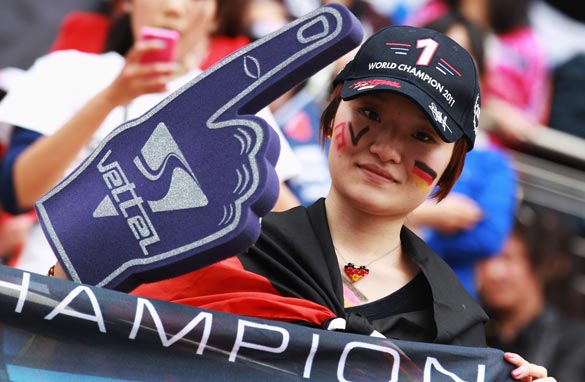 Sebastian Vettel's fans have had only one race win to celebrate this year ahead of the Monaco GP. (Getty Images)
(Editor's note: Ed Foster is the associate editor of Motor Sport magazine. He is also an F1 pundit for CNN's World Sport show.)
Five winners from the first five races? What's happened to Formula One? We're used to seeing a young German dominate, but he's only won one race this year.
It has happened before, but it's very rare. In fact you have to go back to 1983, when five drivers from five different teams won the first five races.
Alain Prost broke that streak at Spa in Belgium, with his second victory of the season, but almost 30 years later there is no guarantee that the 2012 trend will not continue this weekend in Monaco.
So why is the racing so hit-and-miss at the moment? Firstly, yes, the tires have played a very large role.
The car that can get the best out of the Pirelli rubber, at the right time, will be much faster than anything else on track whether it's a Red Bull or a McLaren. It's all about maximizing the tires' sweet spot and making sure that they last without their performance dropping away, very suddenly.
Ask Kimi Raikkonen how that feels - he had first-hand experience in China when he lost 10 places in one lap on worn tires. If you're on the wrong rubber at the wrong time you may as well head to the pits and munch on ice cream, as the Finn famously did when a race was halted in 2009.
The fact that tires are now more important is partly down to the huge loss of downforce resulting from the ban on exhaust-blown diffusers at the end of 2011.
With less downforce at the back of the car (which means that it is pushed into the ground to create more grip), the rear tires slide around more and therefore get hotter, quicker. Add to this the huge variations in the temperatures at the different tracks and you're some way to seeing why tire management is such a science.
Some teams are easier on their tires than others, and some drivers - like Perez and Button –have a remarkable ability to nurse them. But the current situation is emphasizing tire management and car setup even more than ever before.
The team that gets its head around the perfect way to treat the Pirellis will go on to win the 2012 world championship. It could be anyone from Williams to Ferrari.
The other reason for the apparently random results is that there is also a reasonably stable set of regulations this year, meaning that the performance differential has been somewhat leveled and almost every team - bar Caterham, Marussia and HRT - is in with a shot at taking the checkered flag at any given race.
It may be making the average fan salivate with excitement, but a certain Michael Schumacher is far from happy (and far from winning) with the emphasis on tire management.
Understandably he's pretty tired of driving around constantly conserving tires, not being able to race flat out. Racing drivers tend to like driving as fast as they can.
"I just think," he told CNN, "that they're playing a much too big effect because they are so peaky and so special that they don't put our cars or ourselves to the limit."
It's not just Schumacher who's tired of the current F1 lottery though; Red Bull owner Dietrich Mateschitz also thinks that the tires are throwing up too many surprise results. But whether that is down to the fact that his driver Sebastian Vettel has won the last two world championships with predictable racing, I couldn't possibly comment on.
Okay, so for the purist fan it is perhaps a step too far, but for the average fan? They're loving it. "Wouldn't want it any other way" and "totally brilliant" were two typical responses when I posed the question of whether the unpredictability made good watching on Twitter earlier this week.
There may only be 20 points between the top seven drivers, but if you look at the top of the championship table the names Fernando Alonso and Sebastian Vettel sit side by side on 61 points each. They're arguably the two fastest drivers in F1 at the moment and that's perhaps the crux of the argument.
Yes, the racing is unpredictable, but class still rises to the top.
With all this in mind, looking ahead to possible contenders to win in Monaco this weekend is going to be a pretty thankless task. Unless, of course, I just list every single entrant. But you can't ever ignore the McLarens of Lewis Hamilton and Jenson Button, nor the Ferrari of Alonso. Hamilton has been plagued by bad luck this year and it's surely time for things to swing his way.
The Red Bulls will be fast, but then so could the Williams – especially in the hands of recent first-time winner Maldonado, who is very quick around the Principality. Last year he drove one of the races of his career only to be taken out in the closing stages by a charging, and hot-headed, Hamilton.
Lotus also looks very strong and if it goes smoothly for either Romain Grosjean or Raikkonen, then expect there to be six different winners, from six different teams, in the first six races of the year. It sounds better than it did after Monaco last year doesn't it? After the street race in 2011 Vettel left with his fifth victory of the season, 58 points clear in the championship.
The 1983 season ended with Nelson Piquet just edging out Prost for the title, which he achieved with only three wins compared to the Frenchman's four. Hamilton's comment that this year is all about consistently bagging points is spot on. Win or lose in Monaco, no-one will want to leave with nil points.