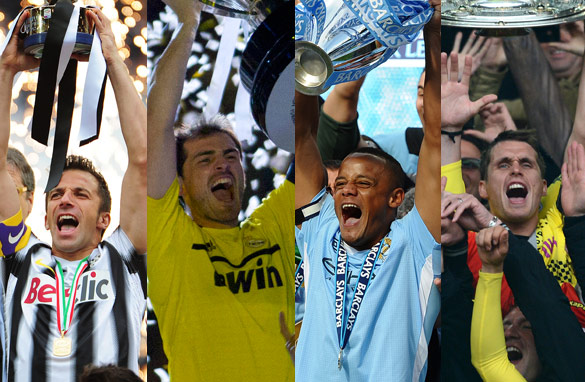 Juventus, Real Madrid, Manchester City and Borussia Dortmund all celebrated titles this season. (Getty Images)
I have finally been able to catch my breath after what was a dramatic Champions League final weekend in Munich, which capped off an exciting finish to the European club campaign.
Before we all get into Euro 2012 mode, I wanted to look back at the season that was and pick out the star performers. Below is my list of the most valuable players in each of the top four leagues.
Spain

1. Cristiano Ronaldo (center) – He led Real Madrid to their first title in four years and he did it in style, scoring some spectacular goals. He finished the season with 46 goals and 12 assists, but you can't use just numbers to describe the influence he had on Los Blancos. He was the heart and soul of the title-winning side and out-performed Messi in the key game between the two sides at the Camp Nou in April.
2. Lionel Messi (left) – A record 50 goals in La Liga for the Argentine phenomenon, who was once again sublime. We are running out of adjectives to describe the 24-year-old, who continues to get better and better. Messi loses out to Ronaldo because Barcelona lost out to Real Madrid.
3. Radamel Falcao (right) – The best pure striker in the world as far as I am concerned. He is a cross between Ivan Zamorano, Hugo Sanchez and Gabriel Batistuta. "El Tigre" can score from anywhere and he singlehandedly kept Atletico Madrid in the hunt for a Champions League spot. If it weren't for the Colombian and his 24 league goals, Los Colchoneros would have struggled to finish in the top half.
England

1. Yaya Toure (center) – Manchester City would not have won the Premier League title without the Ivory Coast international. No chance. Even if you forget the two vital goals he scored in the penultimate game against Newcastle, his presence was decisive during his side's title run. Yaya is the kind of player you can count on when a game is on the line. He always knows what to do with the ball and his experience and class make him one of the top midfielders on the planet.
2. Robin Van Persie (left) – Arsenal should do everything and more to keep RVP at the club. Pay him whatever he wants, give him a title of Sir or Lord, because without him the London club would have been a mediocre mid-table side this season. Arsene Wenger has to build a team around the Dutchman, even if he is about to turn 30. Van Persie played every Premier League game this season and scored 30 goals. Arsenal desperately need him to stay.
3. Sergio Aguero (right) – His fantastic strike in the final seconds of the campaign clinched Manchester City's first title in 44 years, and that alone would have been good enough for him to be in contention for Player of the Season award. However, the Argentine did so much more in his first year in England. He was a constant threat to every defense in the league and opened spaces for his fellow strikers to shine.
Germany

1. Robert Lewandowski (center) – Probably the best Polish forward since the legendary Zbigniew Boniek. Lewandowski has proven in the last two seasons that he is among the best finishers in the world, winning consecutive league titles with Borussia Dortmund. At 23, the sky is the limit for this talented front man. He scored the only goal in the huge Bundesliga clash with Bayern in April and netted a hat-trick against the Bavarians in the German Cup final.
2. Marco Reus (left) – He is fast, he is skilful and he has an eye for goal. Reus is one of the most exciting prospects in German football and he has just earned a big-money move to Dortmund. Don't expect fans of Monchengladach to be bitter. Reus' 18 league goals led them to fourth place and a chance to qualify for next season's Champions League.
3. Klaas-Jan Huntelaar (right) – After disappointing stints with Real Madrid and AC Milan, "The Hunter" has once again confirmed his goalscoring credentials at Schalke 04. The Dutchman netted 29 goals in the Bundesliga this season, helping his side finish third in the table.
Italy

1. Andrea Pirlo (center) – Like fine wine, the midfielder gets better with age. He was picked up for free by Juventus from Milan and marshaled the midfield with superb class and style. Pirlo led Serie A in assists, with 13, and was the main reason why the Old Lady lifted the Scudetto for the first time since 2003.
2. Claudio Marchisio (left) – After being farmed out for a couple of years, Marchisio finally became the player Juventus always hoped he would be. His nine goals were second best in the team and he added skill and speed to a midfield which already had style (Pirlo) and grit (Arturo Vidal).
3. Sebastian Giovinco (right) – I could have picked Zlatan Ibrahimovic, who scored 28 league goals, but since Milan failed to win the Scudetto, I have gone for the diminutive Parma forward. The former Juve youngster has come good at the Enio Tardini and finished the season in double figures in goals and assists. Look out for him to make a move to a big club in Europe this summer.