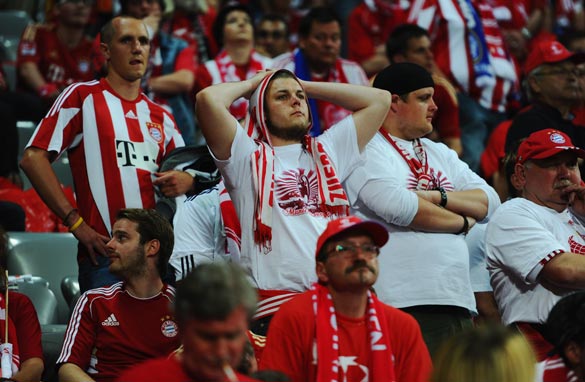 Bayern Munich fans were left disappointed after their team dominated the match. (Getty Images)
I've never seen so many people make so little noise. For an hour, after Chelsea beat Bayern Munich in a penalty shootout to win UEFA's Champions League, a silent throng of 40,000 red-shirted fans stumbled past me, faces fixed with an expression of stunned misery.
They weren't leaving the Allianz Arena, where the final was played, but Munich's Olympic stadium. Bayern's former home had sold out, even though the only football action on display there was on a giant screen.
From outside it sounded like a real match was going on inside and, for long periods, there were thunderous roars of approval as the local team dominated their English opponents. And that explains the shock; the empty stares as the Bayern faithful walked home wondering how on earth their team had lost.
Not all left meekly. Hearing the English accents, many threatened the CNN crew with violence but their fury wasn't really directed at us. We were easy targets. Bayern's fans were actually angry with the footballing gods, and with Chelsea.
 Jubilant Chelsea players parade trophy
All day Munich had been tapping its metaphorical foot to a carnival beat. The city was rocking; the blue of Chelsea overwhelmed by the red of Bayern as supporters sung, danced and drank under a gloriously sunny sky.
Yet that joyous abandon was extinguished by another odds-defying display from a Chelsea side who have reveled in their underdogs tag.
Penalty shootout drama in Munich
How could a team that had finished down in sixth place in England's Premier League, that had been in disarray when Roberto Di Matteo replaced Andre Villas-Boas as manager in February, that rode its luck to beat Barcelona in the semi-finals, overcome the combined talents of Mario Gomez, Arjen Robben, Bastian Schweinsteiger, Franck Ribery and Thomas Muller?
As the 2011 champions from Spain had discovered in the previous round, football isn't won on paper. It's not enough to dominate the statistics. Bayern had 21 goal attempts to Chelsea's six. The German club earned 20 corners, Chelsea just one.