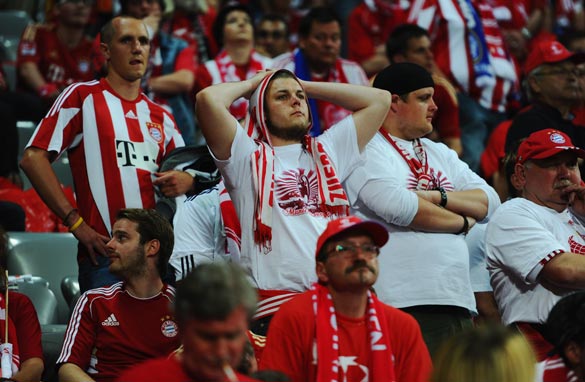 Bayern Munich fans were left disappointed after their team dominated the match. (Getty Images)
I've never seen so many people make so little noise. For an hour, after Chelsea beat Bayern Munich in a penalty shootout to win UEFA's Champions League, a silent throng of 40,000 red-shirted fans stumbled past me, faces fixed with an expression of stunned misery.
They weren't leaving the Allianz Arena, where the final was played, but Munich's Olympic stadium. Bayern's former home had sold out, even though the only football action on display there was on a giant screen.
From outside it sounded like a real match was going on inside and, for long periods, there were thunderous roars of approval as the local team dominated their English opponents. And that explains the shock; the empty stares as the Bayern faithful walked home wondering how on earth their team had lost. FULL POST