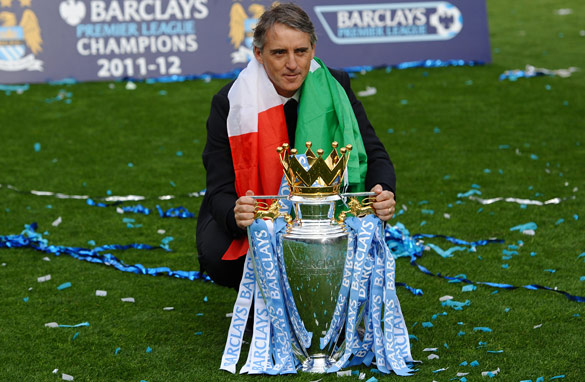 Roberto Mancini celebrates Manchester City's title triumph, but should it have been more emphatic? (Getty Images)
First of all, congratulations to Manchester City on clinching a first English title in 44 years.
However, I have to say I was expecting Roberto Mancini's team to win the Premier League in a more convincing manner than with a last-gasp 3-2 win against Queens Park Rangers, who were battling to avoid relegation from England's top division.
I am not going to lie, I tipped City's neighbors Manchester United for the the league all season long. After United pulled eight points clear of City last month, I did not expect Alex Ferguson's team to throw it away by losing against Wigan and drawing 4-4 with Everton. Honestly, I think United lost the title more than City won it.
On paper, big-spending City were so much better than every other team in the league that they should have been more dominant throughout the campaign. City were up against one of the most mediocre United squads in recent times, a team which needed the 37-year-old Paul Scholes to come out of retirement and help reinforce their midfield.
Mancini's team also faced an Arsenal squad decimated by the losses of Cesc Fabregas to Barcelona and Samir Nasri, who joined City last August. Add to this a Chelsea squad battling to restore form after the midseason departure of manager Andre Villas-Boas and a Tottenham team plagued by inconsistency, and there was no team which had the tools to challenge City.
In my view, Mancini also got a lot of decisions wrong over the course of the season. He publicly banished Carlos Tevez from the club after his refusal to warm up against Bayern Munich in September, before bringing him back into the fold for the title run-in.
He tolerated all of the craziness caused by Italy striker Mario Balotelli, played attacking midfielder Nasri out of position for most of the season and he failed to successfully rotate his squad. Bosnia striker Edin Dzeko was underused in attack, while players like England winger Adam Johnson were not given the chance to provide a fresh approach.
When it came to the final day, City beat an abysmal QPR team - which had been reduced to 10 men with more than half an hour to play - deep into time added on thanks to the individual talent of the phenomenal Sergio Aguero.
Mancini was desperate on the sidelines throughout Sunday's thrilling finale. The closing stages of the season have seen individuals, not the team, rise to the occasion and get the job done.
Yaya Toure scored a brace in the previous victory against Newcastle, a header from captain Vincent Kompany beat a defensive United in the Manchester derby and Aguero came up with another huge score on Sunday - the 23rd league goal of his debut season in England.
It was incredibly exciting and City fans should enjoy it. I personally don't subscribe to the philosophy of buying success, but it has worked for them.
I'm curious to see what City do next year and how other clubs will improve their squads. But City should have been a far more impressive in victory than they were.