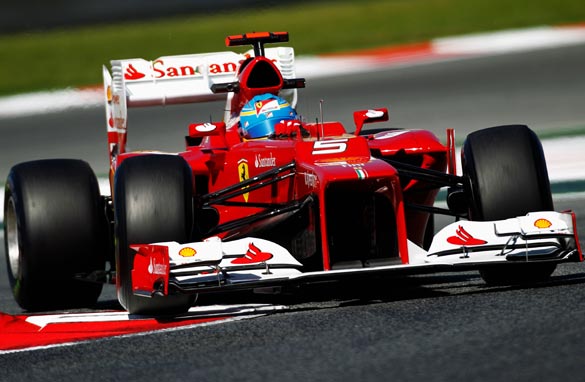 Ferrari's Fernando Alonso hopes for more improvements in Barcelona. (Getty Images)
(Editor's note: Ed Foster is the associate editor of Motor Sport magazine. He is also an F1 pundit for CNN's World Sport show.)
As the Formula One circus makes its way to Catalunya for the first of the European rounds this weekend, Ferrari finds itself hoping, desperately, that it has made a step forward.
The teams have just finished their first in-season test since 2008, and after three days spent at Mugello everyone has their eyes on the Italian cars. Can Ferrari turn its season around with just one test? Probably not, is the quick answer.
Between the beginning of 2000 and the end of 2004, Ferrari was utterly dominant in Formula One. So dominant, in fact, that thanks to its drivers Michael Schumacher and Rubens Barrichello it notched up 57 wins in 85 races (48 of which were courtesy of Germany's seven-time world champion).
I recently met Daniel Bruhl, who is playing ex-Ferrari driver Niki Lauda in the upcoming Hollywood film "Rush," and even he lost all interest in Formula One during those years. And he's German. The team was so invincible that before each race started you could have written a report on it.
Okay, during those years Ferrari had Schumacher (whose status as its "number one" was very clear even after team orders were banned), Jean Todt and Ross Brawn, and tailor-made Bridgestone tires. But what really made a difference was that it tested relentlessly. Despite many drivers hating the thought of going round in circles collecting data, Schumacher appeared to revel in it.
However, just because there has been an in-season test this year it doesn't necessarily mean that Ferrari will be challenging the likes of Red Bull and McLaren when the lights go out on Sunday.
There's no denying that the Scuderia started the season with an ill-handling, unpredictable car, but no one could have predicted that after the first four races Fernando Alonso would be fifth in the world championship, only 10 points behind the leader Sebastian Vettel.
The fact that the Spaniard - whose two world titles came when he was at Renault - notched up that victory in Malaysia in March is perhaps the only thing that is keeping the "tifosi" from storming the Maranello castle.
Ferrari's last constructors' title was back in 2008, while Kimi Raikkonen was the last Scuderia driver to lift the drivers' crown, and that was in 2007 when the very first iPhone was announced. Seems like a decade ago doesn't it?
Anything less than several victories this year and team principal Stefano Domenicali will be, unjustly, put right in the firing line of a very unforgiving Italian media armed with the Gazzetta dello Sport's AK47 equivalent: thousands of column inches.
At Mugello Ferrari did test many new parts on the car, but the updates look suspiciously like something that would make the car more predictable, rather than blisteringly quick. Of course, this doesn't mean that it's not a step in the right direction - just don't expect Alonso to put his car on pole in Catalunya (famous last words?)
Alonso, it seems, is of a similar opinion. "In Montmelo," he said on the Ferrari website on May 5, "we will be counting on making a step forward, but we won't know until Saturday if we have and if so, how big a step it is. Clearly, having limited the damage in the first four races this year, we must turn things around.
"Having said that, it's not the case that if we are not on pole in Barcelona then it's the end of the world. The important thing is to make progress, reducing the gap as much as possible, first this weekend, then again in Monaco and after that, in Montreal, Valencia, Silverstone..."
If Ferrari employed me I would be saying exactly the same - not lifting the hopes of the millions of Ferrari fans around the world. Ferrari will no doubt have sorted some of its issues, but all the other leading teams were at the same test and, bar something extraordinary, they all will have taken a step forward as well.
That said, there are still 16 races left and who would have predicted four different winners from four different teams in the first four races of this season? No, me neither. Formula One 2012 continues to intrigue.