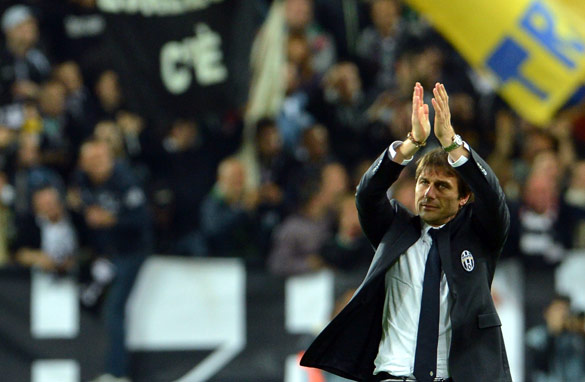 Coach Antonio Conte has returned the good times to Juventus, the 'Old Lady' of Turin. (Getty Images)
The Old Lady is back. This past weekend Juventus won the Serie A title with a match to spare and ended a long and winding road to recovery after their dramatic fall from grace.
What could be seen as a flashback to the years when the Turin club dominated Italian football should rather be looked upon as a glimpse into what the future of "Calcio" could be. What Juve have done is take football in Italy to the next level, both on and off the pitch, and they should get a lot of credit for it.
You could compare the club's renaissance to that of a phoenix. When Juventus were stripped of two league titles and relegated to Serie B in 2006, their soul was dead. However, seven years later, it has been reborn and the team's impressive achievement this season should be praised.
You have probably seen the numbers from this campaign – 37 league matches undefeated, only 19 goals conceded and a goal difference of +46 which is the best in the league. However the story of Juve's success goes beyond stats and figures. It is the story of a team that got everything right both on and off the field.
It all started with the audacious hiring of former Bianconeri idol Antonio Conte as manager a year ago. Then 41, he had led Siena back into Serie A and had a lot of promise in the style and substance of his work. After another disastrous campaign under Luigi Del Neri, a change was needed and the new board decided that Conte was the right man for the job.
He was. The first thing the new boss did was build a solid backbone of tried and tested Italian players – Gigi Buffon in goal, Giorgio Chiellini marshalling defense and Andrea Pirlo pulling the strings in midfield. Slowly but surely the results started to appear early in the season, and a 2-0 win over defending champions AC Milan showed that this team meant business.
As the campaign progressed, it was clear Juve were title contenders - and the fact they weren't involved in European football gave them a definite advantage over their closest rivals. They were able to keep their best players fresh, and even though Conte failed to find a consistent goalscorer, the team kept on finding ways to win games, or at least not lose them.
A key ingredient to Juventus' success this season was the support of their home fans. You could say that about most successful sides, but this case is different. It's just that in Italy most clubs have old and uncomfortable stadiums which have become deserted and desolate places at times. Even Milan's San Siro and Napoli's San Paolo, which get good crowds, don't have an ideal atmosphere. Athletic tracks around the fields mean the noise level on the pitch is far from intimidating.
Juve went for a different philosophy when building their new stadium. The club decided to go for a smaller, more intimate arena. The capacity of 41,000 meant it was practically always full and the stands were less than 10 meters from the touchline, meaning the atmosphere was intense. Conte admitted as much when he said the new stadium charged up the atmosphere and made playing there a huge advantage.
So what should other teams learn from this? Many things, to be honest.
The first is that successful clubs need to invest in infrastructure. Instead of splashing out hundreds of millions of euros on players, it does pay off to have a modern stadium where people want to go. Most of the stadiums in Italy and Spain, for example, haven't been remodelled since both nations hosted the World Cup (in 1990 and 1982 respectively) and that is simply not good enough.
They should also realize that former players with a winning mentality can have an important role to play. Conte, who won the Scudetto five times as a midfielder with Juve, was able to pass along that experience to his pupils. It was an inside job. He was given a chance, and he delivered.
Last but not least, old players should be respected. Juve relied on a side which featured many players over 30 making decisive contributions. Buffon was solid, Pirlo instrumental and we should also hail Alessandro Del Piero who, at 37, still scored a handful of key goals during the season.
What next for Juve? Well, the team's next objective is winning the Coppa Italia. The Bianconeri have reached the final against Napoli on May 20 and could secure an historic double - a feat last achieved by Juve in 1995, when Conte was established as a key player in midfield. After that, bring on the Champions League. I am curious to find out just how good this team can be in the world's top club competition.