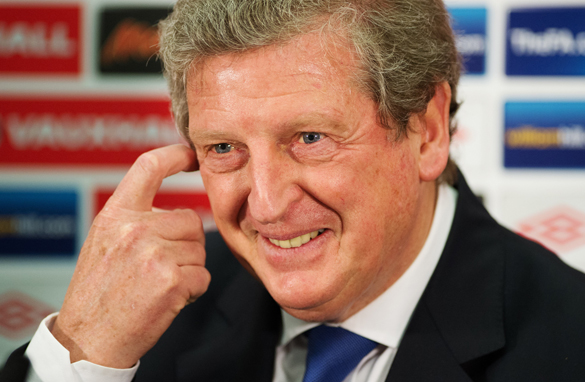 Roy Hodgson has already come under intense media scrutiny as England's new manager. (Getty Images)
It's all change in England. There seems to have been a shift in the balance of power in the Premier League, and the country's Football Association has appointed a new national team manager.
While the first phenomenon has been brewing for a while, with Manchester City's shadow growing larger and larger over rivals Manchester United, the decision to go for Roy Hodgson as the man to replace Fabio Capello has surprised and disappointed a lot of people in England.
I have to say I am not one of them. I actually think the 64-year-old is a good appointment. He is vastly experienced and has a better pedigree than all of the other candidates who were reportedly considered for the job. The only criticism I can find regarding the decision is how long it took to make. Surely the limited time he will have to prepare for Euro 2012 means the team's chances of success at the tournament will be affected. 
First I should explain why Hodgson is not such a popular choice for the English public. The hype around this job is always incredibly high, and everyone in the UK expects the man in charge to be charismatic and entertaining.
To be frank, Roy is not seen to be either of those. Rather, he is a serious, intelligent and experienced coach who will steer clear of scandals and not give media and fans the headlines they have thrived upon in the past. He won't be caught doing or saying something silly like Glenn Hoddle, Kevin Keegan or even Sven-Goran Eriksson, and he won't be as easy to criticize as Capello was in recent times.
Proof of how desperate tabloids are to make him entertaining arrived on Wednesday with The Sun mocking his speech impediment on its front cover. In his first press conference he was also asked about playing in an all-white South African league during the Apartheid-era – a question intended to trip him up right from the start.
There will no doubt be many more grillings ahead, especially if England again fail to impress at a major tournament, but Hodgson has shown in his long career that he has the dignity and ability to cope.
But England fans need to remember two things. Firstly, being manager of the national team is not a popularity contest. It is about getting results. Secondly, you need to lower expectations for major tournaments. Don't forget, the nation hasn't won anything since 1966!
As for the FA's decision-making process, its chairman David Bernstein told the media on Tuesday that he was very pleased with how the appointment was handled. I have to disagree wholeheartedly.
If you know you want someone English and you only have three or four candidates, why wait three months to pick a coach with such a big tournament around the corner? Bernstein said he had decided in early April that he was going to pick Hodgson, so why not announce it then? It is not as if West Bromwich Albion was involved in a relegation dog fight and would suddenly collapse after hearing the news. Surely the selection process could have been handled in a more professional and transparent manner.
Furthermore, I don't understand why Bernstein didn't want to explain the reasons for choosing Hodgson ahead of Harry Redknapp. The Tottenham manager had been the front runner ever since Capello left his post, especially after being cleared in court of tax evasion charges, and everyone was left wondering why he wasn't the chosen one in the end.
So what next for Hodgson, who helped Switzerland qualify for both the World Cup and European Championship in the 1990s?
The first thing he needs to do is choose his personnel carefully and decide who he is taking to Euro 2012. John Terry's race abuse court case will not be heard until after the finals in July, and the decision about whether to include the Chelsea captain in the England squad will come under much scrutiny.
After that, win over the fans and the media. Easier said than done? Sure, but I believe he can do it.