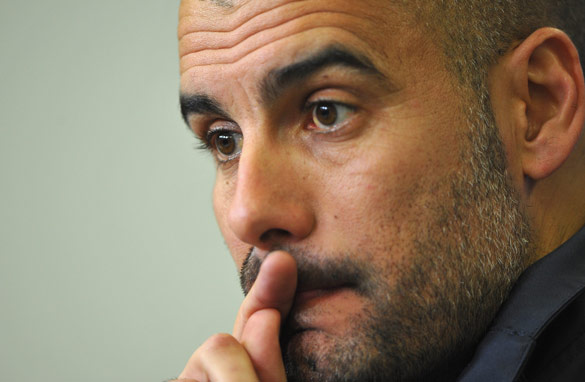 Former Barcelona midfielder Pep Guardiola has an awesome record as coach at the Catalan club.
The news had been rumored and speculated upon for weeks within informed circles of the Spanish press, but the reality of Josep "Pep" Guardiola confirming his decision to leave Barcelona is a blow that no amount of advanced warning will soften for the millions of fans who follow the Catalan club around the world.
It says something of the standards the 41-year-old set at the Camp Nou that being knocked out of the semifinals of the European Champions League - a result that relinquished Barca's grip on the continental title - and a defeat to arch-rivals Real Madrid which all but ended a compelling fight for the Spanish crown, were deemed failure enough for his trophy-laden tenure to come to an end.
And of course, in typical fashion, it seems the judgment of failure resided almost solely in the mind of Guardiola himself. Among the directors of the club, the players and legions of fans, you would be hard-pressed to find any that would agree with Pep's personal analysis - but such is the burden of the perfectionist complex, one assumes.
Arsenal manager Arsene Wenger has his critics, but the Frenchman's pursuit of flawless football surely pales into insignificance next to Guardiola's compulsive characteristic. For this was a coach who, in his first top-level job, won 13 trophies in four seasons - not bad for a man learning the ropes.
Three back-to-back La Liga titles, twice crowned champions of Europe (and semifinalists of the intervening year), one Copa Del Rey, two UEFA Super Cups, two FIFA Club World Cups and three Spanish Super Cups. In 46 months, Guardiola built his side a cupboard full of silverware that other clubs take decades to accumulate.
This success had major implications in logistics alone: such was the Blaugrana's progress in major competitions, Guardiola oversaw 242 matches since 2008. The intensity of this period would always test such an artistic approach.
But the tangible evidence of success was only half the story: it was the manner by which Pep's Barcelona slayed all that came before them, the aesthetic elegance of their play that took the game into a new realm and captured the heart and imagination.
The beauty of Lionel Messi, Xavi and Andres Iniesta in their pomp - set free with an ethos of creativity by the manager - has led to passages of play whose audacity and technical prowess defy belief. Messi has scored, on average, over 50 goals per season playing under Guardiola - an eye-watering stat that may never be bettered.
But it wasn't just about three individuals, Guardiola was an innovative tactician too. No team in the world defends like Barca, goading opposition attackers to expend their energy chasing lost causes by diligently passing the ball in areas where the coaching manual clearly states a "boot upfield" is required.
He made the bold decisions of selling Samuel Eto'o and Zlatan Ibrahimovic. He turned Javier Mascherano into a centerback and turned defender Gerard Pique into a world beater. His team attacked like mind readers and defended with relentless, energy-sapping pressing. It was a high-risk masterclass that placed ultimate trust in the skill of his players.
This "ideal" touched football fans across the planet and will arguably be Guardiola's greatest legacy. Alex Ferguson, a disciple of the beautiful game if ever there was one, said simply that Pep's Barcelona were the "best team he had ever faced." A magnanimous and powerful assessment from the oracle-like Scot, whose Manchester United side were crushed 3-1 by Barca in last season's Champions League final and 2-0 in the 2009 title match.
Guardiola may not yet have won more trophies than greats such as Bob Paisley, Ottmar Hitzfeld or Marcello Lippi, and he hasn't tested his skills in different countries and been successful like Jose Mourinho, but he arguably got closer to soccer perfection than the "total football" of Ajax and the intuitive attacking of Pele's Brazil.
He promoted a brand of football that was pure and poetic, and that alone has made him an honorary member in the pantheon of great coaches.