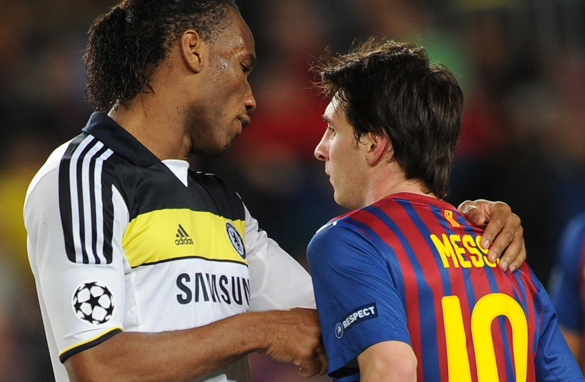 Chelsea's Didier Drogba, left, commiserates with Barcelona's Lionel Messi, who missed a penalty. (AFP/Getty Images)
Chelsea's staggering Champions League victory over Barcelona proves that sport at the highest level can still shock us, defy all the odds and leave us open-mouthed and scratching our heads.
It proves that, despite the specter of corruption and match-fixing, the playing field is still a level one. That even if sponsors and governing bodies want the most entertaining or marketable sides to prevail, star teams don't win by right. Like anyone else, they must earn victory.
With Chelsea down to 10 men, their captain sent off, losing 2-0 and Barcelona's fearsome Camp Nou jubilant - be honest, what were you thinking? How long until Messi scores? Will it be a record win for the European champions, who were seeking a fourth title in six years? Who will Barca face in the final?
Whatever was going through your head, please don't try to convince me - even diehard Chelsea fans - that you thought the English team would go through. And even if you did, you weren't predicting that Lionel Messi - who has netted 63 times this season - would miss a penalty kick for the Spanish side and that goal-shy Fernando Torres would score for Chelsea, putting the outcome beyond doubt in the dying minutes.
Dropped by Spain and with just three Premier League goals to his name this season, Torres confidently skipped past Barcelona keeper Victor Valdes with almost miraculous confidence considering how unassured he has been since an $80 million transfer from Liverpool in January 2011 and how uncertain he looked on the pitch after his late introduction on Tuesday.
This was only a semifinal but Chelsea's win will go down as one of the greatest upsets in sporting history. I would put it alongside Buster Douglas flooring Mike Tyson to claim the world heavyweight title in 1990, Goran Ivanisevic winning the 2001 Wimbledon tennis title or the United States'  "Miracle on Ice" Olympic hockey gold in 1980 as a straightforward gob-smacker.
Chelsea may have been Champions League runners-up as recently as 2008 but the central players - Petr Cech, John Terry, Ashley Cole, Frank Lampard and Didier Drogba - were supposed to be past their peak.
Chelsea only have a temporary coach after Roberto Di Matteo was asked to pick up the pieces when Andre Villas-Boas was sacked less than a season into his mission of rebuilding the squad. The Blues are still down in sixth place in the Premier League, and face the prospect of missing out on Europe's top club competition next season unless they win the May 19 final in Munich.
Some will claim Liverpool's comeback in the 2005 final against AC Milan was more remarkable, but it wasn't against a side lauded globally as the best football team in history - although those boasts are sure to fade to a whisper now.
Barcelona remain technically breathtaking, but it turns out the better side doesn't triumph automatically. Sport isn't about entertaining. It's still about winning - no matter how you do it.