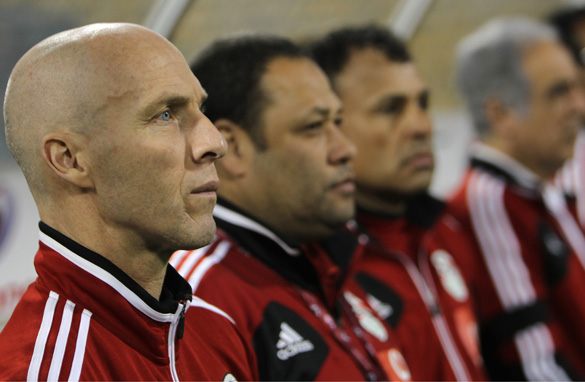 American coach Bob Bradley is seeking to rebuild the fortunes of Egypt's national football team.
While the soccer world sharpens its hyperbole for Wednesday's European Champions League semifinal first leg between Chelsea and Barcelona, another arguably more important match will take place on the other side of the world between two teams from two troubled countries.
In the neutral environment of the United Arab Emirates, the Egyptian national team – led by former U.S. coach Bob Bradley – will take on Iraq, a side now being marshaled by Brazilian legend Zico. There will be few column inches to elucidate the result.
 The friendly game will give both teams an opportunity to test themselves before June's busy schedule of 2014 World Cup qualifiers. Iraq has impressed under Zico, winning its Asian qualification group and reaching the final round of qualifiers. A handful of games were even played on home soil as Iraqi football, for the first time in almost three decades, tasted some semblance of normality.
Bradley, on the other hand, has been operating in a chaotic post-revolutionary environment. Almost as soon as he took the job last year, Egypt's former president Hosni Mubarak was ousted in a bloody uprising in which Egypt's football ultras – politically minded, organized groups of fans – played a crucial role.
The league was suspended before finally being canceled after February's Port Said tragedy, where 74 Al Ahly fans were killed after a league match against home team Al Masry.
Many of Bradley's best players were on the pitch that day and saw death close up. With no league and his squad's most important players traumatized by what they had witnessed, football seemed to be the least of Egypt's worries.
Yet Bradley has transformed the national team's fortunes over the past two months, organizing training camp after training camp to knock his players into shape while navigating the choppy political waters in a country where some still view an American in charge of the national team as bordering on sacrilegious.
After the Pharaohs beat Mauritania 3-0 last weekend, Bradley's record stands as played eight, won six, drawn one, lost one. The single loss was against Brazil last year.
When I met Bradley in Cairo in February, he spoke passionately and eruditely about the political problems in the country, his love of Egypt, his new life in Cairo and the soul searching that the Port Said tragedy had provoked.
But he also spoke about how the game could be a genuine force for good while politicians squabble for relevance in post-Mubarak Egypt. As several candidates were excluded by Egypt's Electoral Commission ahead of a historic, if fraught, presidential election, the national team has been quietly building momentum using a squad drawn from across Egypt's social spectrum.
And for Bradley, qualification for the 2014 World Cup – the first time arguably Africa's greatest team of the past two decades would qualify for the finals since Italia '90 – would be the game's own important contribution to Egypt's revolution.
The 54-year-old doesn't have to look far past his next opponents for proof of the power that football can have on a country struggling to find itself. In 2007 I spent a week with the Iraqi national team as they trained in Jordan, in exile, in preparation for the Asian Cup – the region's equivalent of the European Championships.
Under threat of assassination, as hundreds were being slaughtered back home every day, a united team made up of Sunni, Shia and Kurdish players somehow won the continent's top competition even as celebrating football fans were being targeted by insurgent suicide bombers.
That victory took place in Iraq's bloodiest month. But it proved to be an apex. The Iraqi flag was seen to be proudly flown on the streets of Baghdad for the first time in years.
Psychologically it proved to a conflict-jaded country on the verge of partition that, yes, Iraq was still greater than the sum of its parts. The deaths fell after that famous victory in July, and they kept falling.
Last week Formula One supremo Bernie Ecclestone – under fire over the hosting of the Bahrain Grand Prix as the Gulf Kingdom tries to come to terms with its own uprising – declared that sport and politics should never be mixed. He was wrong, of course. Sport can no more exist in a separate universe from the rest of society than can art or music.
But as Iraq proved in 2007, football can succeed where politicians fail. Victory against Iraq will be noticed by few outside of the two countries. But as Bradley continues to build momentum towards Brazil 2014, the Pharaohs could yet prove to be an example that others should follow.