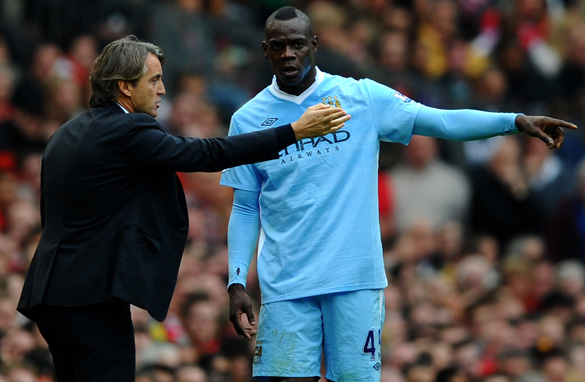 Manchester City boss Roberto Mancini, left, has finally lost patience with Mario Balotelli. (Getty Images)
Why always me? That was the message revealed by Mario Balotelli on his t-shirt when he scored in Manchester City's 6-1 win at Old Trafford back in October. A lot has changed since that game, which seemed to herald a real power swing in the English Premier League, but that moment helps explain a lot of what has happened to the young Italian striker and his club during the business end of this season.
City's hopes of a first league title since 1968 have crumbled well before Manchester United get the chance to avenge that embarrassing defeat later this month, and at the same time the career of one of soccer's most promising talents is hanging in the balance.
Instead of being hailed for his goals and undoubted skills, the 21-year-old is best known for his onfield petulance and a series of high-profile off-field incidents which can only be a huge embarrassment to City's Abu Dhabi owners.
Whether it is for setting off fireworks in his house and destroying his bathroom, telling police he carries a lot of cash because he is rich, crashing his luxury car, or admitting to dating an escort, Balotelli's personal life can be compared to a bad comedy series. And now his professional future is at stake.
Having been told he is no longer part of his manager's plans for the rest of this season after being sent off yet again in a crucial game at the weekend, Balotelli also faces the real possibility that he may not be selected in Italy's squad for the Euro 2012 finals starting in June.
I must admit I have never been a big fan of Balotelli. I watched him break into the Inter Milan side as a teenager four years ago, and always thought he had a lot of talent - but his attitude constantly let him down. Mario seemed more preoccupied with what was happening in his world than what was going on around him, and he made more headlines off the pitch than on it in Italy.
The proof of his unreliable nature came when even Jose Mourinho, known as one of the best motivators in the world of football, failed to get the best out of him at Inter and decided to use the striker only sporadically during his treble-winning season at the San Siro.
So it is no surprise what has happened with "Super Mario" in Manchester over the last couple of months, as he has failed to change his ways since moving to England in August 2010. Even though he has scored 17 goals from 31 appearances this season, his antics off the pitch have always merited more column space than his performances on it.
Granted, a lot of journalists pick on Balotelli, but he definitely brings a lot of grief upon himself. 
As well as his off-field behavior, which also includes giving money to strangers and gatecrashing a press conference unveiling Inter's latest manager, there have been various clashes with teammates on the training ground and in the dressing room.
You really have to wonder what he is thinking most of the time. If you are, then the answer is simple. All you have to do is to refer to the message on his t-shirt – he is thinking of himself.
Which leads me to the role of Roberto Mancini in the player's troubles. Mancini gave Balotelli his senior debut at Inter at the age of 17, and gave him a fresh chance at City. However, if you know you have a volatile player in your side, someone who is a negative influence on team spirit, why do you persist with him?
Following Sunday's defeat to Arsenal, which all but ended City's title hopes and featured Balotelli's third red card this season, the manager said he was finished with his forward - but why did he give him so many chances?
Surely his preferential treatment of Balotelli irritated his teammates and only hurt City's performances. You could actually tell from the players' reactions to his sending-off that they have had enough of his antics. Why it took so long for Mancini to reach his limit, I will never know.
So what is going to change? To be honest, I am not sure it matters right now. Manchester City must come to terms with the fact that they are going to finish this season empty-handed even though they have by far the strongest - and most expensive - squad in England this season.
When the summer comes around, there is only one way forward. Sell Balotelli and sack Mancini. Bring in Mourinho and start a new project. One that won't be tainted by idiotic antics and poor managerial decisions.
Regarding Balotelli, if he does leave City the question surely has to be, who will take him? He may have burned one too many bridges.