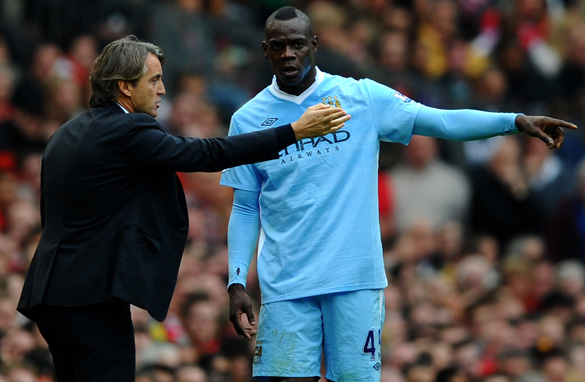 Manchester City boss Roberto Mancini, left, has finally lost patience with Mario Balotelli. (Getty Images)
Why always me? That was the message revealed by Mario Balotelli on his t-shirt when he scored in Manchester City's 6-1 win at Old Trafford back in October. A lot has changed since that game, which seemed to herald a real power swing in the English Premier League, but that moment helps explain a lot of what has happened to the young Italian striker and his club during the business end of this season.
City's hopes of a first league title since 1968 have crumbled well before Manchester United get the chance to avenge that embarrassing defeat later this month, and at the same time the career of one of soccer's most promising talents is hanging in the balance.
Instead of being hailed for his goals and undoubted skills, the 21-year-old is best known for his onfield petulance and a series of high-profile off-field incidents which can only be a huge embarrassment to City's Abu Dhabi owners.
Whether it is for setting off fireworks in his house and destroying his bathroom, telling police he carries a lot of cash because he is rich, crashing his luxury car, or admitting to dating an escort, Balotelli's personal life can be compared to a bad comedy series. And now his professional future is at stake. FULL POST