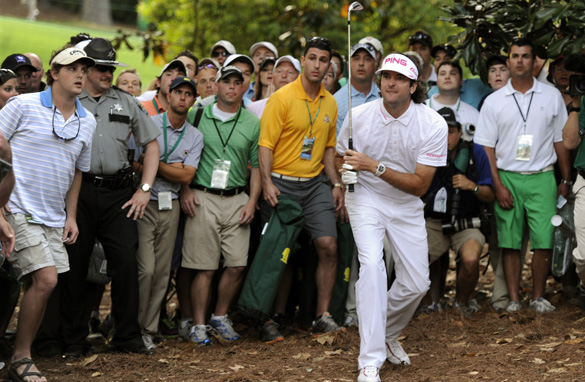 The eyes of the world are now on new Masters champion Bubba Watson, who here hits his incredible playoff shot.
Golf has just been injected with a breath of fresh air, and it's taken a dramatic Masters Tournament for the golf world to fully appreciate what it now has on its hands.
Bubba Watson is the new Masters champion. Very few could have predicted that he would have the tenacity to bring this one home, despite recent good form and an outrageous talent to boot.
"Bubba Golf," as he calls it, can only be played by the owner: Booming drives, all played with shape, allied to a hit-it-find-it-and hit-it-again approach. It's very refreshing on the professional golf circuit. He plays the game in a unique way, relying totally on creative shot-making that cannot be taught.
The 33-year-old has never had a lesson in his life. Quite simply, he is one of the most naturally-gifted golfers to ever grace the game. The big-hitting American just couldn't manage his own talent well enough when he first came out, and he has been misunderstood by most.
They say that the cream will always rise to the top, yet even with Bubba's talent, a Masters win was something of a stretch. "I never got that far in my dreams," he said afterwards when asked to share his thoughts on an improbable win.
It was his fourth PGA Tour victory since 2010 and his first major triumph. Having lost a three-hole playoff for the PGA Championship at Whistling Straits 19 months ago, few could still have predicted that he would win the biggest prizes because of his perceived image as a goofy kid in a six-foot three-inch body.
A committed Christian who doesn't smoke or drink, and who tweets about skateboarding stunts, can often be misunderstood. But the man who raises vast amounts for charity, who has just adopted a little boy with his wife Angie and whose shot-making ability is something to marvel at, that is the man who has claimed the 76th Masters Tournament.
A home-bird from Bagdad, Florida (population under 2,000) - someone who was on the receiving end of some harsh criticism for his innocent statements about Parisian landmarks last July - has had the last laugh here at Augusta National.
Playing alongside South Africa's Louis Oosthuizen, who outrageously holed his second shot at the par-five second hole in the final round for a historic albatross, Watson was unperturbed. His birdie on the same hole showed his newfound calmness. A back-nine burst of four consecutive birdies vaulted him into a two-horse race for the title with the 2010 British Open champion.
It was eventually decided on the second hole of a playoff, when from the woods on the right side of the hole, Watson's creativity and shot-making genius was given the perfect canvas. Hooking a wedge a full 40 feet in the air through a gap in the trees to the 10th green nearly 140 yards away was, quite simply, breathtaking.
He now has a first major title, a cheque for $1.4 million and a whole host of new fans who have come to appreciate that golf has a new superstar, one who is incredibly good for the game.
As we mark the April 9 birth date of golf's last great artiste, the late Seve Ballesteros, it is fitting that we herald the arrival of a new golfing genius - and his name is Bubba!