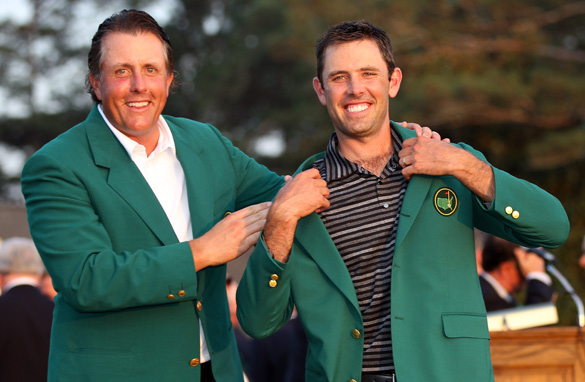 Will Charl Schwartzel, right, be able to don another Green Jacket at the Masters this weekend? (Getty Images)
Augusta National, where the Masters Tournament is being played for the 76th time, is without doubt the place to be in world golf right now. It is a venue that strikes a chord with even the most casual of sports follower because of its unique qualities.
It's the only one of professional golf's four "majors" to be played at the same venue each year. It awards a green jacket to its winner and guarantees an annual invitation to that special player to play in the tournament for the rest of their competitive career.
It celebrates the values of its founder Bobby Jones through its tight rein on old-school adherence to etiquette and tradition. In other words, you behave yourself! It is no surprise that Augusta's club president refused to comment publicly this week on the debate over female membership - it is not their style.
There is no other place quite like Augusta and, as a result, demand for tickets is at a premium. Grown men, captains of industry and regular golf fans are all like children anticipating Christmas. This is the Disneyland of golf and, quite simply, the only show in town.
This year spring has come early to this part of the American South, and as a consequence the azaleas were in full bloom ahead of time, so the traditional color associated with the broadcast on television of places like "Amen Corner" (holes 11, 12 & 13) will not be as spectacular, but the golf surely will.
It is arguably the most eagerly-anticipated Masters of recent times because of a number of factors.
Tiger Woods is back to full health, it would appear, and after a victory in Florida last month (Arnold Palmer's Bay Hill Invitational was Tiger's 72nd PGA Tour win) he has rarely looked as relaxed and confident since his previous one in 2009. Rory McIlroy is being dubbed the heir apparent to Woods, and at 14 years his junior the 22-year-old from Northern Ireland has the world at his feet.
McIlroy's implosion on the final day last year was, on reflection, the making of the man. Taking a four-shot lead in the last round, he unraveled as the sports world looked on helplessly. Within 10 weeks, however, he regrouped, looked deep inside himself and found the solution that only he could find, and emerged triumphantly as the winner of the U.S. Open at Congressional. What a turnaround.
He carries a huge weight of expectation on his return to Augusta National, but has clearly matured into a confident, proven winner who was recently elevated to world No. 1 status after his most recent victory on the PGA Tour just three weeks ago.
He has since lost that crown to England's Luke Donald, who many believe to be a real threat at this year's tournament. Donald is in the best form of his life, and having achieved everything in his sport except a victory in one of golf's four majors, he really does look ready to take the next step into an elite club.
What is fascinating about this year's Masters is the number of form horses who are peaking at the right time. This tournament has been their focus all year so far, and now comes the moment when they hope all that practice can be celebrated.
American idol Phil Mickelson is looking for his fourth green jacket and can never be discounted. England's world No. 3 Lee Westwood is in the best shape of his life, itching to get his first major. He has come close here in recent years, so perhaps his time has come.
No Australian has ever won the Masters, but in Adam Scott and Jason Day - who both tied for second last year - there is a distinct chance that a first title could be heading Down Under should they perform to the same level this week.
Finally, there is South Africa's low-key defending champion Charl Schwartzel, who birdied the last four holes to win by two shots last year. His is a special talent and more importantly, his is a special desire - a lethal combination around these verdant pastures of Augusta National.
Can history repeat itself? The world will be watching.