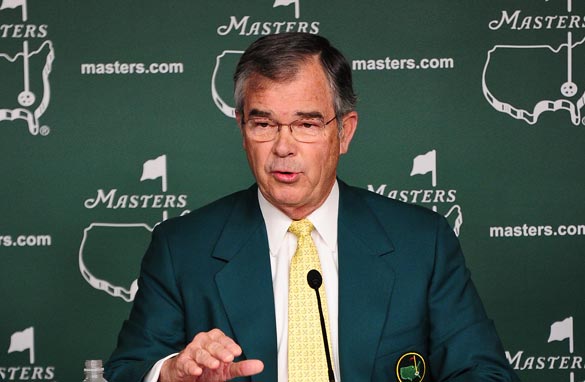 Augusta National chairman Billy Payne sidestepped questions about female members in his pre-tournament press conference.
It could have been the week the famed Augusta National made history. It could have been the week the club announced its first female member - nearly 80 years since its inception back in late 1932.
Instead, current chairman Billy Payne stuck to his guns and refused to discuss whether tournament sponsor IBM's new CEO Virginia Rometty would be considered for membership just like her four male predecessors.
It was a packed press conference at the National on Wednesday when the chairman gave his annual address to the world's media. I counted maybe five different attempts - including my own - to get Mr. Payne to elaborate further on his stance that the club simply doesn't comment on membership matters. But to no avail.
So what's next? Will this hot topic of debate go away or will it remain on the table? There are thousands of people out there on the course every day, many of them women.
People I spoke to suggested that we're now in 2012 and it's time for change, but in terms of visible protests - like the one witnessed outside the club back in 2003 - there was nothing doing.
The fact remains that Augusta National is a private club. We assume there are no female members but we don't know that for sure. How could we if the club retains the right to not discuss the matter?
Ideally we would and perhaps should be hearing from Mrs. Rometty on this matter but as of right now - there was no comment from herself or IBM.
One thing I do know is that Augusta does things on its own timetable and won't be pressured into anything. It took the club until 1990 before it accepted its first ever African-American member and it would have surprised me greatly if the National had chosen this of all weeks to announce a first female member.
Quite simply, nothing to distract from the smooth running of the tournament will be tolerated.
Indeed when and if the day comes, it may well be the case that there IS no big announcement.
Oh and by the way, keep an eye out for Mrs. Rometty this weekend. If she's at Augusta for Sunday's final round and she's dressed in a green jacket THEN we'll know history has indeed been made!