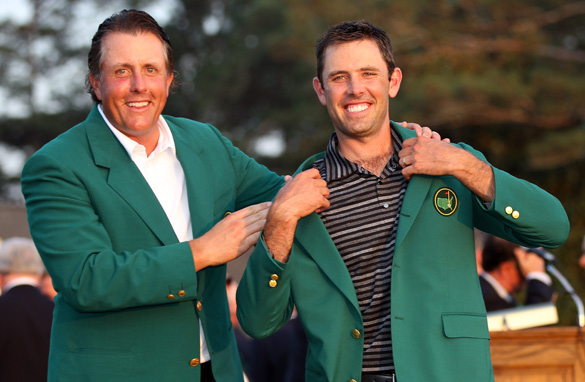 Will Charl Schwartzel, right, be able to don another Green Jacket at the Masters this weekend? (Getty Images)
Augusta National, where the Masters Tournament is being played for the 76th time, is without doubt the place to be in world golf right now. It is a venue that strikes a chord with even the most casual of sports follower because of its unique qualities.
It's the only one of professional golf's four "majors" to be played at the same venue each year. It awards a green jacket to its winner and guarantees an annual invitation to that special player to play in the tournament for the rest of their competitive career.
It celebrates the values of its founder Bobby Jones through its tight rein on old-school adherence to etiquette and tradition. In other words, you behave yourself! It is no surprise that Augusta's club president refused to comment publicly this week on the debate over female membership - it is not their style.
There is no other place quite like Augusta and, as a result, demand for tickets is at a premium. Grown men, captains of industry and regular golf fans are all like children anticipating Christmas. This is the Disneyland of golf and, quite simply, the only show in town. FULL POST