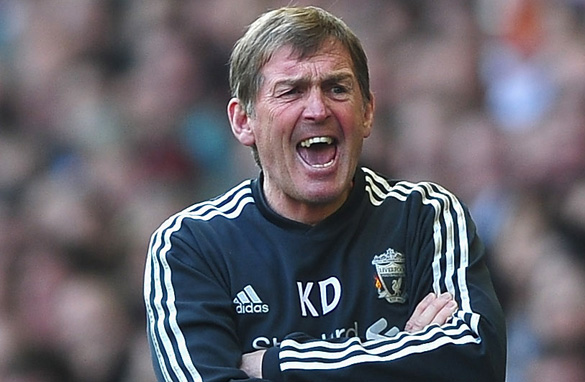 Kenny Dalglish has been unable to recreate his glory days at Liverpool since returning to management.
Perhaps you have seen this statistic before: Since January 1, Liverpool have picked up only eight points in the English Premier League. Only Wolves, rooted firmly to the bottom of the table, have been worse.
Yes, these are trying times for a club that once dominated domestic and international football. With only seven matches remaining, the Reds are closer to the relegation zone than the Champions League places and seem to be heading nowhere fast. One thing is clear, a change of direction is needed and it is needed now.
At various times this season I have been criticized, on my blog and on Twitter, for writing that Kenny Dalglish should be sacked as Liverpool manager. Surely now, even the most passionate fans have to start questioning their idol and the role he should have at the club.
This season has been quite simply a disaster for the Scottish coach. From his decision to spend a fortune on average players, to supporting Luis Suarez during a racism row, to overseeing the worse run of form at the club since the 1950s, it has been a campaign to forget.
For those of you who are thinking of February's League Cup final victory, I'll come back to it. For now though, let's focus on the mistakes.
Charlie Adam, Jordan Henderson, Andy Carroll and Stewart Downing. What do they have in common? They had won no major trophies when they moved to Liverpool. Furthermore, only Adam had ever played in the Champions League and none of them had ever been part of a successful top-level team.
So the question is, what on earth possessed Dalglish (with the backing of the club's director of football Damien Comolli) to spend a combined £80 million ($125 million) on them? No-one knows. They were average players, with some potential, but to dish out that kind of cash was just insane.
Mistake number two saw Dalglish completely misjudge the Suarez incident, in which the forward was found guilty of racially abusing Manchester United's Patrice Evra.
Instead of waiting to find out what had happened, he blindly stood behind his striker and even sanctioned the move to make t-shirts supporting the Uruguayan, who was subsequently banned for eight matches. There was no apology, there was no remorse, there was not even the simple questioning of his player's actions.
Only after Liverpool's American owners got involved - following Suarez's decision not to shake Evra's hand before a league match after a suspension that left Dalglish without one of his most important players - did he reluctantly come out and criticize his pupil.
Finally, Dalglish's management skills have been questionable at best. Liverpool have had one plan all season, 4-3-3, and it hasn't worked.
I know that Brazil midfielder Lucas Leiva has been injured, and captain Steven Gerrard was out of action for a long time, but Dalglish has still failed to get the best of any of his top players. Has he really spent time on the training ground working on the strike partnership between Suarez and Carroll? I doubt it. Has he even decided where to play them?
And what about Downing, Craig Bellamy and Dirk Kuyt? They rarely seem to know what they're doing and where they should be playing. To put it simply, it's a shambles. No wonder Liverpool have lost six of the last seven league games.
The impression I get is that Dalglish thought he could manage a team now just like he managed it with great success more than 20 years ago. Motivating and shouting might have worked back then, but it certainly doesn't work now. The Premier League is a place where managers need to have one, two, maybe even three strategies to implement during games. I am still not sure Dalglish has one he can count on.
So back to the League Cup. I am sorry Liverpool fans, but this doesn't make the season much better. So you won a trophy for the first time since 2006, but does it really matter? Liverpool beat an average second division side, after a penalty shootout, in a competition where most teams play their reserves - and all it earns is a place in the second-tier Europa League next season.
Is that the way forward, is that what Liverpool really want? I doubt it. Just ask Birmingham City supporters. They celebrated winning the League Cup at Wembley only to see their team relegated a few months later.
So if Dalglish is not the solution, who is? I would definitely find a way to get him out at the end of this season and I would bring in a new man with new ideas.
Forget Rafa Benitez, there is too much history there already and many players wouldn't be too happy to have him back. Instead Liverpool need someone like Germany coach Joachim Low, Marseille's Didier Deschamps, maybe even Brendan Rodgers of Swansea - one of the Premier League's surprise packages this season.
They need someone young and dynamic to turn the place around, and they need to do it fast.