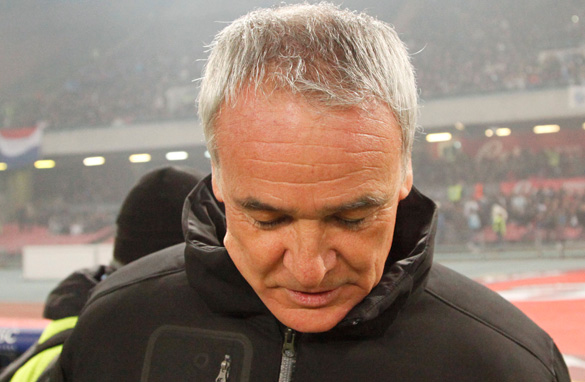 Claudio Ranieri is the latest coach to fail at Inter Milan following Jose Mourinho's departure.
It was always a case of when, not if, Claudio Ranieri was going to be sacked by Inter Milan. Following a miserable run of results - just one win in 10 games - the Italian club's president Massimo Moratti decided enough was enough.
But the story here isn't Ranieri, but rather Inter, and what has happened to the 18-time Serie A title winners since Jose Mourinho left after the 2009-10 season, in which he won the European Champions League plus a domestic double.
Nearly two years have passed since then, but I believe the ghost of the "special one" still haunts the training ground at Appiano Gentile.
It's not only the trophies that are missed in Milan, but also Mourinho's character and personality. He had a strong and intimate relationship with the players, and it has left them feeling empty ever since he abandoned them for Madrid.
Wesley Sneijder recently said that Mourinho was the best coach he ever had. Even the fiery Zlatan Ibrahimovic revealed in an interview that he would have "killed for Mourinho."
You simply cannot underestimate the impact he had on Inter's players, and in my opinion that has made life virtually impossible for every man who has succeeded him.
If the Mourinho effect has definitely been a factor contributing to Inter's demise, most of the blame still has to go to the president, Moratti. A series of mistakes in hiring managers and signing players have led the Nerazzuri down a dark path which will difficult to escape from.
Let's have a quick look, first, at the managers who have been brought in over the last two seasons.
Former Liverpool boss Rafael Benitez was the worse possible choice to succeed Mourinho considering that his personality clashed immediately with the squad. Furthermore, the fact he wanted his players to forget about Mourinho, and move on playing in a different way, only made matters worse.
Following Benitez, Moratti leaned on former AC Milan player and coach Leonardo, who was actually not a bad choice at the time, but the Brazilian's heart was never in it, and the 1994 World Cup winner left at the end of the 2010-11 season.
A new campaign brought with it a new manager, and disastrous would be a good word to describe the choice of Gian Piero Gasperini, whose only top-level coaching experience was at Genoa. He came in with a revolutionary tactical approach but failed miserably to apply it to a group of players who simply were not cut out for it. The result was a short stint which failed to yield a single win in five games.
Which leads us to Ranieri, a widely-respected coaching veteran who has led top clubs such as Juventus, Chelsea and Valencia. To be honest, he never had a prayer. Coming in with the season already in progress and with an ageing and jaded squad, he was hardly going to make much of an impact.
Initially Inter's results were okay, but slowly the novelty effect wore off and the team started to display more and more chinks in its armour.
If Moratti was poor with his choices for managers, he was equally unfortunate at picking the right players for the club.
Firstly, he has been too emotional when it comes to letting certain players go. The likes of Lucio, Ivan Cordoba, Christian Chivu, Dejan Stankovic, and even Esteban Cambiasso should have been sold.
As far as replacements are concerned, the club has invested in youth but their policy has back-fired. Andrea Ranocchia simply isn't good enough, Philippe Coutinho hasn't been given much of a chance, Ricky Alvarez is far from being the finished product and Luc Castaignos hasn't been able to adapt to Italian football.
In other words, they were the wrong choices at the wrong time.
So what next for Inter? Well this week the club unveiled a talented yet unknown coach to take over until the end of the season. Andrea Stramaccioni, who is only 36 years old, has been brought up from coaching the youth team to leading the senior team.
Does he stand a chance? I doubt it. Until Inter bring in someone with a big personality and big character to make everyone forget about Mourinho, the Nerazzuri are doomed.