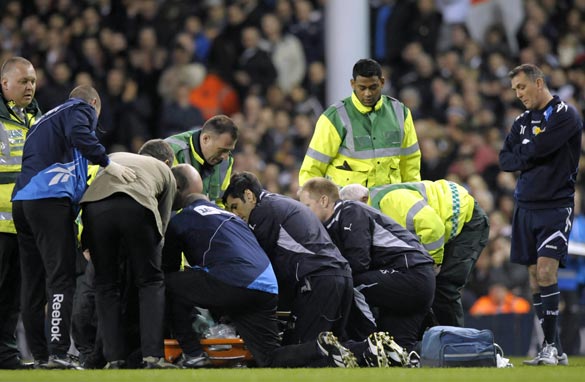 Bolton manager Owen Coyle watches on as his player Fabrice Muamba receives urgent medical attention at White Hart Lane.
The shocking sight of Premier League player Fabrice Muamba collapsing on the pitch while playing in a match on Saturday should act as a wake-up call to the football authorities in England and across Europe.
It has highlighted again that the standards and practices in place right now are not good enough to identify the type of heart problem which struck down the 23-year-old Bolton midfielder.
They leave too much to chance - and let's not forget that the Muamba incident is just the latest in a series of tragic events which has seen high-profile players such as Marc-Vivien Foe, Miklos Feher, Phil O'Donnell, Antonio Puerta and Daniel Jarque lost their lives due to heart problems.
As far as health testing goes, it seems the only time players receive an extensive medical is when they turn professional or when they are transferred between clubs, and I don't think that's good enough.
England and all the other major leagues should take their cue from the excellent program in Italy, which I believe is the gold standard.
In Italy, every professional footballer - indeed athletes across all sports - must undergo a thorough medical examination every six months at an official testing center.
The centers are licensed by the Italian Olympic Committee (CONI) and the testing pays particular attention to the stresses placed on the heart by the incredible demands of modern sporting competition.
This provides extra safeguards that aren't in place elsewhere, and the program's success is highlighted by the cases of Nigerian star Nwankwo Kanu and former Senegal international Khalilou Fadiga.
Both had heart abnormalities that were only picked up by the CONI tests they were obliged to have while on the playing staff of Serie A club Inter Milan.
Kanu stayed at Inter after having corrective surgery and went on to represent his country at the World Cup and enjoy a successful career in England, but Fadiga left the San Siro soon after his diagnosis without playing a match and joined Muamba's current club Bolton in 2004 when he passed a medical.
But before he could play, the then 29-year-old collapsed before a match and had to be fitted with a defibrillator to regulate his heartbeat. He was advised to retire by specialists and, after making irregular appearances for the EPL side, was released in 2006.
After the tragic passing of former Sevilla midfielder Puerta in 2007, there were calls for the European parliament to legislate and introduce standards of testing using the Italian model as a guideline.
As far as I'm aware, nothing came of it - but the Muamba case highlights the need for urgent action.
The medical treatment Muamba received on the pitch was obviously first-class. Extra medical facilities have been put in place at all EPL grounds since the horrific skull injury suffered by Chelsea goalkeeper Petr Cech in a match at Reading in 2007.
I would like to see football's governing bodies and lawmakers use the example of the Muamba case to press for changes in medical testing that will try to ensure sure there are no more such incidents.
At least then some good will come out of a potential tragedy which has united the world of football in wishing Muamba a speedy and full recovery.