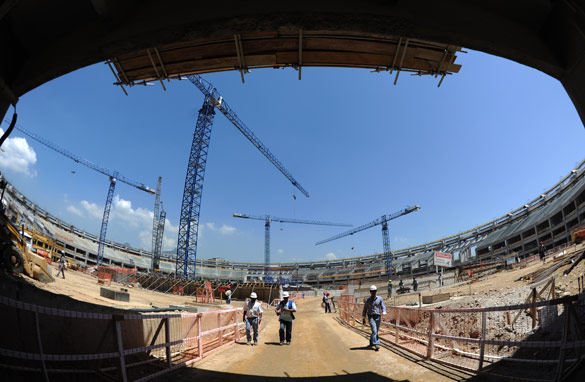 The iconic Maracana stadium in Rio de Janeiro is being redeveloped and will host the 2014 World Cup final.
A mess. That would be a good way to describe the situation in Brazilian football after Ricardo Teixeira, the chairman of its Football Federation (CBF) and 2014 World Cup organizing committee, stepped down on Monday.
With a little over two years to go until the biggest tournament on the planet kicks off, construction at stadiums is behind schedule, the relationship between Brazil's government and the game's ruling body FIFA is in tatters - and now Brazilian football's most powerful and influential man is gone.
It really doesn't take a genius to figure out that the South American country's preparations are in trouble. No wonder FIFA's secretary general Jerome Valcke said Brazil needed a "kick up the backside."
Now, whether Valcke should have actually said that in public is another matter, and it's understandable that Brazilian Sports Minister Aldo Rebelo took it as an insult. In fact, he said he did not want to deal with Valcke again - and it took a letter of apology from both the Frenchman and FIFA president Sepp Blatter to resolve the issue.
So should we be worried about the next World Cup being a success? In my opinion, right now, there should be some concerns.
What you have to consider is that Brazil is a huge country, with 26 states (plus one federal district) and very powerful regional governments. Every decision that needs to be made at a national level needs to be approved by its regional leaders, so the process is extremely long and bureaucratic.
Furthermore, you have several local political figures looking to profit from the World Cup, and if you add the element of corruption - which can never be completely discounted - then you understand why construction of stadiums, roads, airports and hotels is behind schedule.
As far as corruption is concerned, it has reared its ugly head countless times in the countdown to the World Cup. Brazil's former Sports Minister Orlando Silva resigned in October of last year amid allegations he embezzled money from public funds. Previously, five other top cabinet members had stepped down after being accused of a variety of misdemeanors.
Which leads us to Teixeira. His official reason for resigning this week was that his health did not permit him to exercize his functions. It is true that the 64-year-old has been sick, but there has been a lot of pressure for him to step down.
Teixeira's name has been tainted by several allegations of corruption. In 2001 he was accused of 13 crimes, from money laundering to tax evasion, by the Brazilian Congress. Recently his name was associated with a deal to sell TV rights for a friendly match between Brazil and Portugal in 2008 at an over-inflated rate in order to pocket part of the money.
In other words, Teixeira was not seen in Brazil as the man who should be the face of the World Cup. Former Brazil international Romario, now a politician, this week called him "a cancer in Brazilian football."
Furthermore, he had lost the government's support. While his relationship with Brazil's former president Lula da Silva was great, Teixeira did not see to eye with the new woman in charge, Dilma Roussef - who is rumored to have tried and succeeded to push him out. He does, however, remain a member of FIFA's Executive Committee.
So what now? In my opinion Brazil needs a clear direction as soon as possible and it needs to get everyone pulling in the same direction - football officials, government officials and FIFA. That is the only way this mess can be sorted out.
Otherwise the question leading up to the tournament won't be, "Who will win it?" (and Brazil has already done so a record five times) but rather, "Well, will the 2014 World Cup be played?" And that is the last thing this proud South American nation needs.