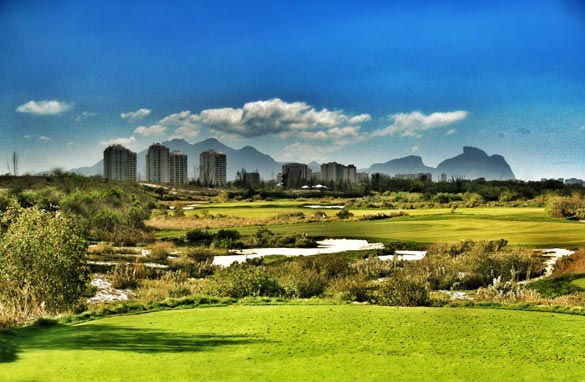 An illustrative version of the proposed Olympic golf course in the Rio suburbs.
Not Jack Nicklaus, not Annika Sorenstam, not Greg Norman, Lorena Ochoa nor Gary Player. Instead, it's the American architect Gil Hanse who takes the honor of designing a course fit to host golf's return to the Olympics in Rio in 2016. It would be fair to say it's a surprise.
It's not that Hanse isn't good. In fact he's very good indeed. His design for Castle Stuart, now host to the Scottish Open, won "Best New International Course" in 2009, and his portfolio includes the Boston Golf Club, Craighead at Crail and courses in South Korea and Japan. Donald Trump has just entrusted him with refreshing the Blue Monster at Doral.
Golf will be back in the Olympics after a gap of 112 years. It didn't take quite that long for Rio and the International Golf Federation to choose a designer – it just seemed that way. A series of delays led to rumors that the selection committee had been split.
To be fair, the temptation to go with a golfing great must have been enormous. Having Jack and Annika, Greg or Gary throw their reputations and influence behind the project would have made selling the concept much, much easier. But many within and around the small world of golf course architecture have already welcomed the decision to put the specific project design above strength of brand.
Because, despite the doubts of some commentators from established golfing nations, Rio 2016 really matters to the game.
As soon as the IOC put golf back into the Olympics, countries all round the world started getting squads together, charging coaches with developing their talented players to push them further up the Official World Rankings, the basis of Olympic qualification.
National governing bodies for golf could suddenly start prising funding out of sports councils and governments. In such countries as China, Olympic status has meant golf can now be seen to be supported.
Clearly it's important that Rio is left with a first-class, environmentally-sustainable golf course, suitable for all levels of player. But it's even more vital that the course is able to help produce an exciting tournament fit for the occasion, one that inspires and showcases talent. Hanse's track record suggests the Rio Organizing Committee and the IGF have made a good pick, although until the course takes shape, under huge time-pressure, no-one can be really sure.
And obviously it's not all down to the course. Golf's standing in the Olympics will also rest in part on having a fair spread of competing countries, on the stage being thrown open to those beyond the traditional powerhouses.
It'll also depend on the format, and there I fear the wrong decision may already have been taken. Week in, week out, Tour professionals play four rounds of strokeplay. It's the fairest test of great players. However the most reliably-exciting tournament in the world is the Ryder Cup, based on matchplay, head-to-head drama that can grip even the most casual of observer. As things stand the Olympic tournament will be strokeplay.
Golf's long-term presence in the Olympics is by no means secure. Rio and the IGF now have to keep on board some of those great names whose designs they rejected today, employing their international recognition to help sell Olympic golf.
They have to encourage golf federations and governments everywhere to develop the golfing stars of 2016. And they should at least look again at what sort of tournament can take golf beyond its core audience … and seriously reconsider that format.