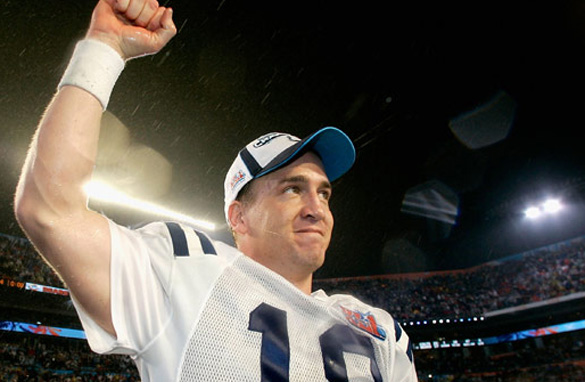 Peyton Manning won the Super Bowl with the Indianapolis Colts in 2007. (Getty Images)
"I don't want to retire." Those are the words of one of the greatest free agents that the National Football League has ever seen.
Emotions flowed on Wednesday in Indianapolis, Indiana as the Colts and quarterback Peyton Manning officially parted ways. Yes, the Colts released their best player.
The tears that were shed by Manning and team owner Jim Irsay were real as the two men faced the "business" realities of the NFL, all the while reminiscing about their 14 years together.
Can Manning still play? There's little doubt about it, despite undergoing a series of sensitive neck surgeries. Now he'll have to prove to new suitors that he can indeed throw the football with efficiency and, more importantly, prove that he's healthy.
Both Manning and Irsay said during their emotional news conference that it was never about money. But a $28 million bonus loomed large that would have triggered the last four years of a five-year, $90 million contract Manning signed in 2011.
The Colts want to rebuild and go in a different direction, which appears to be riding on "luck" - as in Andrew Luck. He's the talented Stanford University quarterback that the Colts are expected to draft next month as the top overall pick. Manning, on the other hand, is about to turn 36 years of age - and therein lies the conflict.
Manning told reporters that he moves on from Indianapolis with nothing to prove. But the competitive fire obviously burns, and we've seen how that can translate into success on the field. Remember how well Brett Favre played in Minnesota after Green Bay decided to go in a different direction with Aaron Rodgers?
Manning has won a Super Bowl. He's been a Colt almost his entire adult life. He's been a class act who even took time to speak directly to the Colts' fans and thank them for the support he's received through the years.
Manning said it: "Nothing lasts forever." Now comes the question: what's next?
While the future for Peyton Manning is uncertain, this is known. The next touchdown pass he throws, for whichever team he joins next, will be the 400th of his career.
In reality, the future looks bright for both Manning and the Colts. Just not together, which makes this parting of ways enough to shed a tear or two.