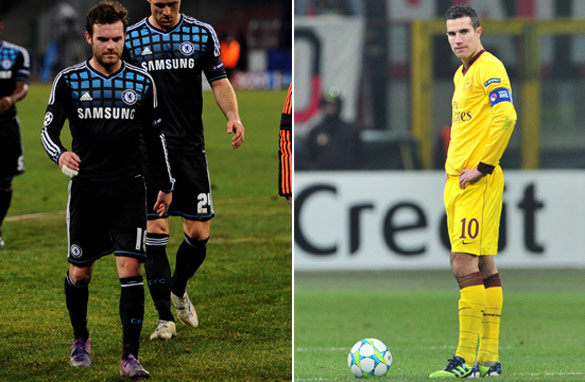 Down and out? Both Chelsea and Arsenal suffered heavy defeats in their first leg matches in Italy (Getty Images).
There is a very good chance that, for the first time since 1996, there will be no English teams in the quarterfinals of the Champions League. Arsenal and Chelsea have to overturn four and two-goal deficits against AC Milan and Napoli respectively, and it doesn't look good.
Why should we care? Because it has become a ritual for Premier League clubs to reach this phase of the competition. In recent years, two, three, even four teams from England have been part of the last eight.
So it begs the question, what is going on? In my view there are a few good reasons for this.
The first has to do with the quality of the Premier League. There is no doubt it is the most exciting competition on the planet with games played at a fast and furious pace.
But what about the level of skill, technique and tactics on show? Overall, I would say that it is lower than in the other top leagues in Europe. This can be highlighted by the fact that no English team has won the Europa League (formerly UEFA Cup) since 2001. This shows that besides the top four, who have played at a high level for decades, the others haven't been able to compete with rivals on the continent in the second-tier competition.
Don't get me wrong. The top three or four teams - usually Manchester United, Chelsea and Arsenal - have been great and England's record in the Champions League proves that. However, since the gap between those clubs and the rest of the Premier League has been widening , perhaps they have become a little complacent both at home and abroad.
Look at what happened to EPL champions Manchester United and current leaders Manchester City in Europe's top club competition this season.
Last year's Champions League runners-up United had a very accessible group with Benfica, Basle and Otelul Galati. They should have won the group comfortably, yet couldn't finish in the top two.
If you ask journalists in Europe they believe Alex Ferguson's side were a little arrogant and thought they would not have to give 100% to win their games. Whether that is true or not, the fact is they couldn't beat Benfica or Basle at home or away.
As far as Manchester City is concerned, it would be fair to say they were unlucky with the group they got. Bayern Munich and Napoli are strong teams and it was always going to be tough to qualify.
Which leads me to my next point. Teams in other European countries have been getting better. Forget Barcelona and Real Madrid, they have always been strong. I am talking about the top sides in Italy, Germany, France and Portugal.
For example, this season there are three Serie A sides in the Round of 16 of the Champions League. There has been a renaissance in Italy with teams playing a more attractive, open style of football. AC Milan and Napoli showed that recently and even Inter Milan, with all their struggles, have been adventurous.
Meanwhile, France had two teams in the quarterfinals last season, and could match that this year. Both Germany and Portugal, with Bayern and FC Porto primarily, have recently had successful runs in the competition.
The final argument I will make here is that the two English clubs who qualified for the knockout phase of the Champions League were never going to challenge for the title.
Let's face it, Arsenal and Chelsea aren't very good right now. They have lost 15 games combined in the Premier League.
The Gunners have been largely a one-man show with Robin van Persie in spectacular form, while the Blues are stuck in a state of transition. As much as you can criticize axed Chelsea manager Andre Villas-Boas for his demeanor and overall attitude, you have to sympathize with him as he tried to push out the old guard and usher in the new.
So as the English fans and the media get ready to face the prospect of seeing the Champions League without any of their teams for the first time in 16 years, perhaps it is time to take stock.
Don't treat it as a scandal, rather look around and see what you can learn. Try to raise the levels of technique and skill in the English game and accept the fact that this streak could not last forever.