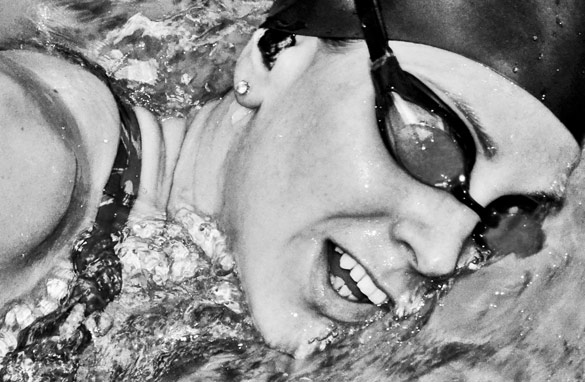 British swimmer Katy Sexton battled depression following the Athens Olympics in 2004. (Edelman)
The trials for the British Olympic swimming team start this weekend, and training has been going really well. It's not so intensive, it's more recovery work and fine-tuning skills - so it's nice to not be feeling tired all the time!
The big moment, when I find out if I have qualified for my home Games, is now just a matter of days away after what feels like years and years of preparation.
Having watched some of the cycling world championships at the Olympic velodrome recently, and having seen the enthusiasm and support from the crowd, the excitement ahead of London 2012 is really snowballing now.
Even the British public wants a piece of somebody or something that's going to be at the Games. It feels more pressurized this time around, but it is about turning pressure into positive energy.
Handling the pressure is tricky for me, having had a bout of depression in the last four or five years. It is now about rediscovering my confidence in competitive situations.
Looking back, the depression probably began after the Athens Games in 2004. When you get to the pinnacle of your sport, as I did in becoming a world champion the year before, there isn't much in place to help you if it all goes wrong.
You deal with psychologists, but they only deal with you as an athlete rather than as a person. I beat myself up and fell deeper and deeper before family problems meant it all came to a head at the end of 2008.
Missing out on Beijing 2008 was a significant factor. In swimming especially, you work for the Olympics. It's the pinnacle of your career, like a footballer working towards the World Cup. You train for four years and to fall at the last hurdle is gut-wrenching.
You get to a point where everything comes to a head. You think, "I can't take this anymore," and you crack. The way you deal with it dictates which way your life goes.
As soon as you recognize there is a problem, you can seek help for it. You have to reconnect with who you are and what you want to do. Like with addiction, once you accept there is something wrong then you can tackle it.
Whatever doesn't kill you makes you stronger. I'm approaching everything I do now in a different way to before. I feel like a different person heading into the trials, I feel like I'm experiencing it for the first time.
I have found myself again. I will be intrigued as to how I compete, because it has been a while since I have been in a good position mentally.
I don't know what I am capable of doing. Everything in my life has been different since dealing with depression, including my training. I have tried to keep a better balance in my life and I think that has helped.
I have given myself the best chance I can of qualifying for London given the budget I have and everything else that has been going on. When I get to the trials, I will give 110% in everything I do. Only time will tell what results come out of that.