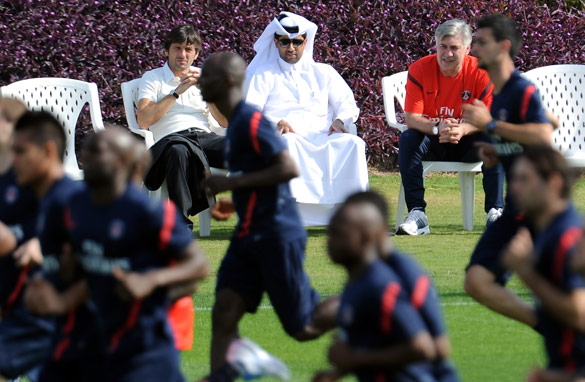 PSG's new regime: (L-R) Sporting director Leonardo, president Nasser Al-Khelaifi and coach Carlo Ancelotti. (Getty Images)
"Revons Plus Grand." Dream Bigger. It's Paris Saint-Germain's new motto and you can see it splashed all over the Parc des Princes, the team's home stadium.
There is no doubt everything has become bigger and better since the new owners, Qatar Sports Investments, bought a 70% stake in the club last May, as I found out on a recent trip to Paris.
I had the opportunity of spending some quality time with PSG's new chairman, Nasser Al-Khelaifi, to get some insight into his project and vision for France's great under-achievers. I also spoke with manager Carlo Ancelotti and star player Javier Pastore.
It would be easy to compare Al-Khelaifi with some of the other owners of European football teams, like Russian billionaire Roman Abramovich at Chelsea or Manchester City's oil-rich Sheikh Mansour. However, he's different.
Al-Khelaifi has a sports background and has worked in the world of sports media for a while as well. He was a professional tennis player and is currently the president of the Qatari Tennis Federation. He has also been the director of television station Al Jazeera Sports since 2006. In other words, this man knows what he is doing.
I definitely got that impression when I spoke with him about his plans for the future. The man who is calling the shots has no problems in stating he wants PSG to be at the same level as Barcelona, Real Madrid, Manchester United and Milan. And he's gone out and laid down the groundwork with this lofty goal in mind, hiring the likes of 1994 World Cup winner Leonardo as sporting director and Carlo Ancelotti, who won the Champions League as a player and a coach, to be manager.
I guess what you want me to tell you is if this dream can come true.
PSG actually have many things going for them right now. The club is located in a high-profile capital with no competition. Whereas in cities like Madrid, Milan and London there are two or more clubs vying for attention, in Paris there is only one. They have a market of 12 million people right there ready for the taking.
Due to a combination of bad management and bad luck, the team hasn't won the French title since 1994, but I honestly think that drought will come to an end very soon indeed.
Another thing in PSG's favor is the fact that there is no other dominant force in French football at the moment. Marseille and Lille, champions of the past two seasons respectively, aren't particularly strong, Lyon are a far cry from the team that won seven straight titles, while the likes of Bordeaux and Saint-Etienne are also underachieving. So it would be fair to say the stars have lined up at the right time for PSG to enjoy a run of domestic success.
Europe will be another challenge of course. Hiring Ancelotti is a good move. His experience will come in handy. "Carletto" seemed to me to be extremely motivated to spearhead this project. He told me the team could compete with Europe's best sides next season since he expected the owners to bring in some more high-profile players in the postseason.
Which brings me to Pastore, the most expensive football player ever bought by a French team. The Argentine playmaker is happy to be the star of the show, but confessed he would love to have a better supporting cast and hinted he'd be delighted to see his compatriot Gonzalo Higuain move to the club from Spanish giants Real Madrid.
Whether "Pipita" moves or not, I believe some big names will be arriving in Paris. Kaka and Alexandre Pato are good bets considering their Milan links with Ancelotti and sporting director Leonardo. Although Al-Khelaifi didn't reveal which deals he is working on, one thing is for sure, he is dreaming big.