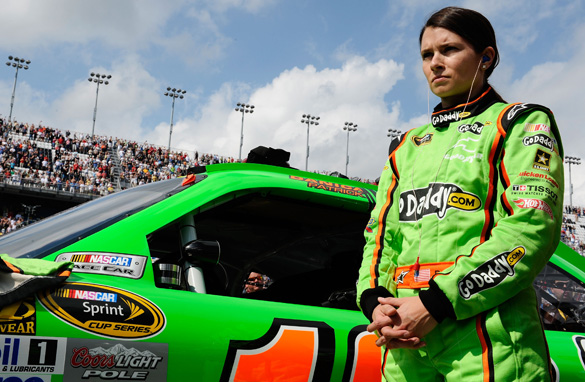 Ground-breaking woman driver Danica Patrick is making the full-time switch to NASCAR from the IndyCar circuit this year.
I landed in Daytona Beach, Florida to cover my first Daytona 500, and in a matter of a few hours I witnessed sports history.
Danica Patrick was the fastest car on the track Friday. She won the pole. And for that she gets to start Saturday's season-opening Nationwide Series race as the lead car. It's the first time since Shawna Robinson in 1994 that a female driver has been the top qualifier in a NASCAR event.
Coming into this "Great American Race" she was obviously the biggest story going. On the plane, in the airport and even in my cab Danica was mentioned by someone. The first female driver to win an event on the IndyCar circuit, she raced here for the first time last year, finishing 14th and 10th in the two races, but has now made the full-time switch to NASCAR.
Most of the folks I've talked to in my short time here like her, they want her to do well. But of course when you're as big of a celebrity as she is, the naysayers are not far away.
But in just 24 hours she gave those doubters something to chew on.
She ran her car well in duels on Thursday but crashed into the wall on the final lap. It shook her up pretty bad, but a helpful husband who happens to be an occupational therapist rubbed most of the pain and nearly all the fear away.
In one Friday afternoon she proved why she is the most improved driver in NASCAR in the last two years. Not my words, fellow driver Elliott Sadler said it in the media room minutes before Danica sat in front of us to talk about her history-making run.
In two short days we've seen Danica Patrick go from the lowest of lows in racing to a short-lived high! The biggest story going is just that - going!
Time for some racing, watch out boys!